By Andrew Nsoseka & Hope Nda
Cameroon's famous Global Peace Advocate and Youth Ambassador, Samuel Bache Bochum, has won the national outstanding youth leaders' award, NAOYELA, as the National Most Outstanding Peace Ambassador.
Bache's first Peace Prize in Cameroon is the 5th he has acquired out of four others previously won from across the world.
Samuel Bache Bochum has been recognised for his messages that promote the culture of peace. His advocacy for peace and development in Cameroon, Africa, and the world, drew great admiration and attention in 2016 when he took the lead as a youth advocate for peace.
[myAds]
He volunteered with both local and international organisations between 2010 and 2015 after realising his dream which was to become one of Cameroon's best youth leaders in peacebuilding and community development.
In 2015, Bochum embarked on his peace advocacy campaign and in 2016, created his own organisation: the Youth Advocates for Peace and Community Empowerment Cameroon, YAPCEC.
According to him, his vision was to create a global platform that will be one of the leading youth networks in the promotion of peace and environmental education in Cameroon, Africa, and the world.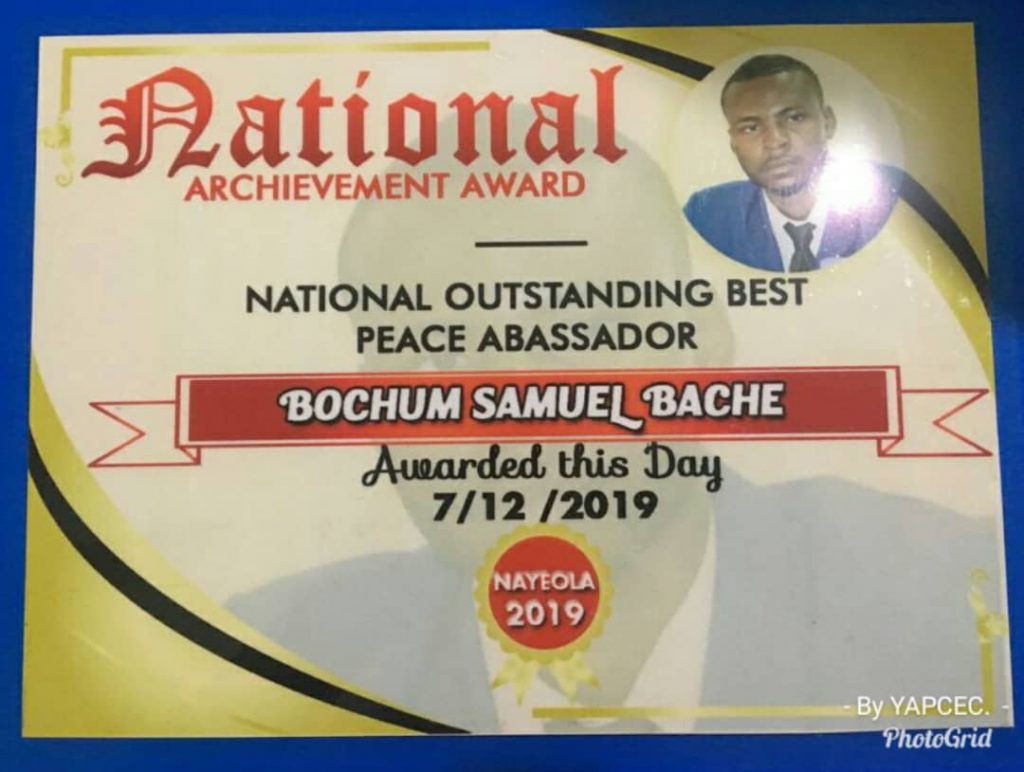 This, he said, will also provide youths with relevant skills and knowledge that will empower them to access opportunities that will improve them and their communities.
In 2016, Bache featured among the 90 global Peace Makers in the world, selected by PEACREMAKERS360 in Columbia, due to his continuous advocacy efforts in Cameroon. Meanwhile, he became one of the Cameroonian youth leaders to have had an audience with the Commonwealth Secretary-General, Patricia Scotland, on the Anglophone crisis during her visit to Buea in 2017.
Their discussions centered on how to fully engage youths in peace advocacy and building processes with all stakeholders as actors of community peacebuilding.
[myAds]
The Ministry of Youth Affairs and the Commonwealth Department of the Ministry of External Relations nominated and appointed him as Commonwealth Youth Ambassador in his capacity as the Cameroon National Youth Delegate to the Commonwealth.
Despite his explorations, learning experiences and training acquired from other countries, he returned to Cameroon in 2018 to continue his community peace advocacy, engaging youths, local authorities and different stakeholders in building peace and sustainability in Cameroon.
His peaceful and community-oriented lifestyle with the people makes him unique in his passionate love for people and his environment.
Even without any job or salary, he is very optimistic looking up to God for his life and future with concern about the wellbeing of the people in his community.
Above all, he says he is grateful to God for the lives of everyone and prays for God's will to be done over the crisis situation in Cameroon.
After receiving peace awards from Pakistan, Nigeria, Morocco, and Italy, Samuel Bache finally gets one from Cameroon based on his three years of relentless efforts in Peacebuilding and advocacy in his home country.
[myAds]