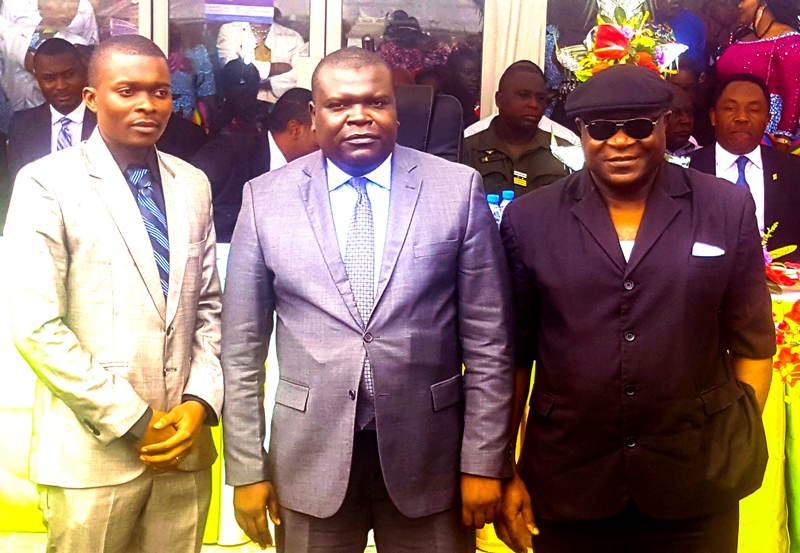 By Andrew Nsoseka
The population of Buea, and the medical corps on Friday June 16, turned out massively to witness the handing over ceremony of Prof. Enow Orock, to Dr. Martin Mokake, as the new Director of the Buea Regional Hospital.
[myAds]
The young surgeon, described by his bosses and officials as intelligent, dynamic, hardworking and, an exemplary surgeon who earned his appointment was ushered into his new office and duties, by the Southwest regional Administration, alongside traditional rulers who came to bestow on Dr Mokake, traditional blessings.
Buea Council's representative at the ceremony, beseeched hospital staff to collaborate with their new Director, in order to step up the delivery of medical services to the population which is now, more than ever, in need of health services.
The Southwest Regional Delegate for Public Health, on his part, called on in the incoming Director to bring in fresh impetus to the hospital through the quality of rendered services to the needy. He went on to instruct Dr Mokake to give a human hand to health services. He instructed that the incoming director should step up revenue from the hospital in order that staffs' motivation packages are improved.
Mokake has also been charged to fight corruption, put an end to illegal sales drugs and other pharmaceutical sales by health personnel in the hospital, ensure effective presence of staff at work, curb rate of avoidable deaths, ensure proper working of standby generator, computerisation of services, as well as bringing in other new innovations, and improving in other specialists units of the Regional Hospital.
[myAds]
Dr Enow Orock Leaves As A Fulfilled Man
Talking at the ceremony, Prof. Enow Orock stated that he is leaving the Buea Regional Hospital as a fulfilled man, because he leaves behind an exemplary young expert, who came in as a volunteer under him, and has proven beyond doubt that he is fit to run the affairs of the hospital.
"…If after a few years, the Government entrust this individual whom we recruited, nurtured, mentored, scolded, molded, provided an environment for, in a few years, to take up leadership of this hospital, this, I count as my greatest success in this hospital…" Prof Orock said amid cheers.
Presenting a balance sheet of his administration, Prof Orock said his administration has improved the staff strength at the hospital, from 150 to 250. He said they fought for, and are still fighting to revitalise the regional cancer centre. He said as the only English speaking pathologist in the country, he will work in collaboration with the new Director, to further the vision of the cancer centre.
The University Don also stated that he will still find time to come and lecture at the University of Buea, because teaching and mentoring young people is one of the best things he enjoys doing.
He stated that he leaves behind a total of over FCFA 450 Million in revenue.
Dr Mokake To Revamp Services, Prioritise Patients Needs First
Commenting on his appointment, Dr Mokake said, "I am not going to thank the Minister for making me Director, but I am going to thank the Minister for giving an opportunity to the youth to excel. This is a unique opportunity that is going to determine the future of the youth in Cameroon. If this management is deemed excellent by hierarchy, then I think many more youths will be appointed to posts of responsibility, but if at all the opposite is true, then we see that one individual have must have diminished the chances of many other youths…It is a very huge challenge for us to represent all the Cameroonian youth, and to make sure that management takes a different face from what we have seen before, especially hospital management.
[myAds]
"We need to have transparency and accountability. We want to open a community-based feedback hospital management because most at times, we think it is the hospital managers that manage the hospital to their convenience. Rather, it is the population that comes to the hospital in need of our services and we need to get the feedback from those who we render services to. It is only when we do that that we reach the mark of service provision and excellent kind of care in Cameroon, and that is where we are heading to."
To the general population, Dr Mokake said. "We want our mothers and fathers and everyone to know that there are the 'big people', we are the servants. The time when patients come and cue for hours to see a doctor who sits inside as a 'big man', is gone. Now the doctor is the servant every patient will be given the excellent care and attention they deserve. That is the only way to fight diseases out of Buea." He said.