By Amos Fofung
One of Cameroons most celebrated professors, Victor Mbarika, who just earned his third Lifetime Achievement Award for promoting IT in developing nations reiterated his desire to keep advancing the sector.
Cameroon-born Professor, Victor Mbarika was recognised for his continuous efforts in advancing and promoting Information Technologies in developing nations.
The professor and Director of the International Centre for IT Research and Development at Southern University, Louisiana-USA earned his third-lifetime achievement award for his IT works in developing nations from the Anglican Communion, Church of Nigeria.
He was awarded alongside Prof. Mrs. Nnamdi Azikiwe, wife of late Nigerian political legend, and first President of Nigeria, Dr. Nnamdi Azikiwe.
He had received a lifetime achievement award from the African Society for Information and Communication Technology in 2012 for his "contribution to ICT research and education" and another from the Cameroon Association of Engineers and Computer Scientists in 2012 for "outstanding contribution to computer science and telecommunications".
In a recent interview granted Pan African Vision Magazine, he explained that "Africa has made a lot of progress because of ICT and it has come a long way since a lot of us started to grow ICT in the region in terms of the penetration of computers, mobile phones, etc. these technologies have penetrated so I really don't buy the idea that that Africa does not have technology.
The founder and president of Board of Trustees of the Information and Communication Technology University, who is credited to have trained more than 20,000 students across the globe, pledged to further his works in advancing IT and promoting education as a whole in Africa.
To him, his dream was to have Africans write their own ICT story and that is what we are doing. "We are defining ICT and implementing within the context of the developing nations and sub-Saharan Africa. Another important thing is, in the past for many decades it has been about Africans travelling to study in the western world but now we have been blessed to see students in the developed parts of the world taking courses at ICT university campuses around Africa so you have the reverse happening where you have professors in Africa of course as well as professors in the US and Europe that teach for ICT universities, teaching students that are in the developed and developing world," he said.
About Professor Victor Mbarika
Victor W. A. Mbarika is a Professor of Information and Communication Technology, ICT, at Southern University, USA.
He is also founder and President, Board of Trustees, of The ICT University System and Foundation, USA, with multiple campuses mainly based in developing countries. Widely reputed for his philanthropic works, he has funded multiple ICT projects and scholarships worldwide. He is also the founder of the International Center for Information Technology and Development, ICITD.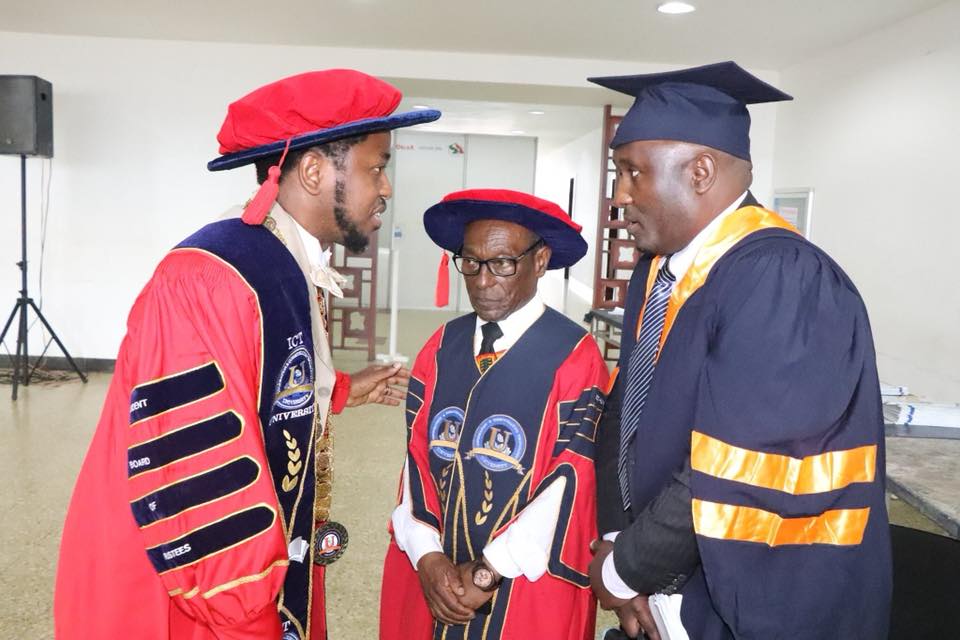 Throughout his career, the astute Professor has taught in top universities Worldwide. In Africa, he has shared his knowledge with students in; South Africa, Cameroon, Uganda, Zimbabwe and Nigeria among others.
Education wise, he holds a BSc in Management Information Systems, MIS, from the U.S. International University, an MSc in MIS from the University of Illinois- Chicago, and a Ph.D. in MIS from Auburn University.
He has authored over 175 academic publications in the form of books, peer-review journal articles, conference proceedings, and book chapters.
Every year, he serves as Keynote Speaker at multiple conferences worldwide with much of his research focused on ICT transfer to developing economies as well as in resource-poor settings of developed economies.
He was cited as being "at the forefront of academic research into ICT implementation in Africa, and has provided a theoretically-informed framework for understanding ICTs in less developed countries…"
Also, he is Editor-in-Chief of The African Journal of Information Systems, and a senior board member for several academic journals internationally. A Lifetime Member of Beta Gama Sigma International Honor Society, Prof, Mbarika equally doubles as a member of the Association of Information Systems at the Institute of Electrical and Electronics Engineers among several other positions.
The professor who challenged Africa to strive to be the as good or even better than western counties reiterates that Africa has what is needed and should seize the moment to champion ICT development.