By Njodzeka Danhatu
Politicians and the general public have condemned the arrest of the president of the Cameroon Renaissance Movement, Prof Maurice Kamto and other militants of his party. Barrister Akere Muna, and Edith Kabang Walla have qualified the arrest as illegal calling for their unconditional release. 
President of the Popular Development Front, PDF tweeted "In this unfortunate attempt to show strength, we discover a government too week to dialogue, too incompetent to understand the cry of the people. The greed of an oligarch who have captured this state is pushing them toward self-destruction" he averred
Prof Maurice Kamto and Co. were arrested at the residence of one of the prominent members of his party, Albert Dzongang in Douala on the night of Monday January 28.
Edith Kabang Walla of the Cameroon People's Party, CPP, also echoed on her Facebook page. "Through this repressive wave, Mr Biya's regime confirms, for those who still doubted, its fundamentally repressive and arbitrary nature. The violent treatment of political demands will exacerbate tensions and make the situation increasingly explosive…the CPP strongly condemns this approach. The CPP requires that the arrested be released and above all, that their rights and freedom be scrupulously respected" she said.
Report holds that Kamto and others, arrested by the Cameroonian police and ferried to Yaounde are currently behind bars.
Talking to Equinox Television, the secretary general of the party, Barrister Ndong Christopher said some party militants were taken from the hospital unrecovered and ferried to detention facilities. One of such a case, is Celestin Djamen who was treated after suffering a bullet wound in the leg. He added that the protest was legal as the protester were decrying ill practices in the country, that is; electoral fraud, violence in English Cameroon and withdrawal of AFCON hosting Right.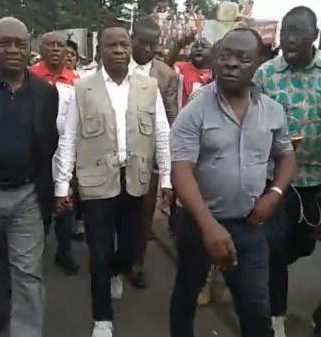 On Saturday January26, thousands of the CRM party members stormed the streets of Douala, Yaounde, Bafoussan and Mbouda denouncing electoral fraud and violence in the two Anglophone regions.
Report says they were brutalised, maimed, arrested and taken to detention facilities.
In a joint press conference on Sunday by The Minister of Territorial Administration and that of communication, MINAT Boss Paul Atanga Nji outlined that the number behind bars is over 100 and that those arrested will faced the law when due time comes.
Out of the country, CRM members equally stormed the Cameroonians embassies in France, Belgium and Germany destroying enormous material. The move has equally been condemned in strong terms in a communiqué signed by the secretary general of the ruling CPDM central committee JEAN Nkuete.
The government through its spokesman Rene Emanuel Sadi said the protest was illegal and should not be tolerated as he debunked claims that live ammunitions were fired on protesters.
Reacting in same dimension, the Territorial Administration Minister Atanga Nji threatened that the CRM party will banned if it continues with it violence. He concurred with Minister Sadi that no live ammunitions were used and that anything contrary to that was "fake news".
His reaction is based on a video that circulated on social media showing Barrister Michel Ndoki been rushed to the hospital with a bleeding leg. Another member of the party Celestine Njamen as we learned was equally shot and is now in detention according Barrister Ndong Chrisstopher. Another video emerging from Douala shows an officer ordering a protester to move in front of him and march as planned. He then proceeded to shoot the man in the leg, and then order him to get up and march. The limping man got up and limped forward as the officer followed.
Minister Atanga Nji cautioned saying, "break time is over" he said "they should not take the government's leniency as a signed of weakness" he emphasised.
In a communique we are yet to confirm its authencity, the CRM and the Social Democratic Front Party have entered in alliance to further protest until Biya's government is crumbled.
SDF protested few days before the CRM Protest and its leaders Joshua Osih Nabangi and Jean Michele Nitcheu were brutalised, arrested and taken to unknown destination and later on released. These are parties that went in for the October 2018 presidential elections but were humiliated by over 70% victory of President Paul Biya.