The Mayor of Buea, Patrick Ekema Esunge, on Tuesday, April 24, harassed a Cameroonian-born international lawyer, Barrister Williams Nguve Netonge, and ordered his troops to intimidate the lawyer.
Mayor Ekema later raised a false alarm to the military command in Buea that one of the ringleaders and founder of the Ambazonia cause, was lodging at Mountain Hotel.
This prompted a contingent of troops to raid the Hotel at about 10:00pm, and arrested the Lawyer.
Barrister Nguve Netonge said on Tuesday, April 23 breaking Wednesday April 24, Mayor Ekema Esunge saw him at the hotel parking lodge and ordered a group of eight armed military officers to arrest him.
"The military officers came, took my ID Card, searched my car and told me that their boss has said they should arrest me. But they said they have not seen any reason to arrest me. They said maybe he (Ekema) doesn't just want to see me, so I should remove my car and park somewhere and go to my room. So I did what they said, and went back to my room."
To the Lawyer, after the incident, he retired into his hotel room, but was again confronted by a group of masked armed officers. "At 10:40pm, I was already in bed, sleeping when I heard the bell ringing. I got up and saw about eight military officers, a combination of his eight military guards, who were heavily armed. The military men told me "sir we are sorry that we have to come and bring you again, we just want you to follow us."
The Advocate said the troops did not want to give the impression that their boss had indicted them for disrespecting his orders.
Barrister Nguve was then arrested and whisked-off into detention at the Gendarmerie Legion Centre in Buea.
 "There, Lieutenant Yanick and Senior Warrant Officer, Louis, started interrogating me fiercely. They were interested in knowing when I came to Cameroon and what I was doing in Buea. I told them that I came to Cameroon on December 14, 2018, but before then I was always in Cameroon.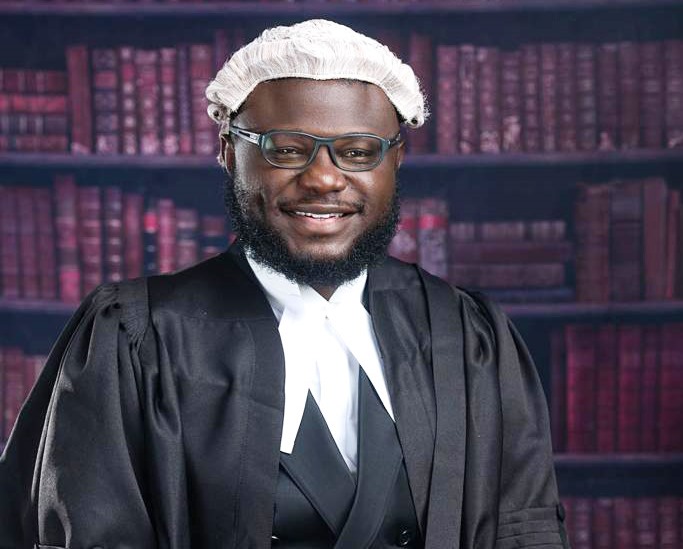 "The story I gave did not match with whatever allegation Ekema had given about me. After taking my statement, they called the Colonel of the Legion and he too came and asked me to recount everything about my short life and stay in Buea. I told him I am an international lawyer and businessman. I told him I have been in Cameroon since December 2018 and that they can track my records from immigration. He asked me whether I have been attending secessionist meetings in Nigeria. I told him I was in Nigeria for studies and not for any form of meeting. He asked me whether I have ever been to the US; I told him I have never been to the US. With conflicting views, he ordered that I should spend the night at the Legion Centre, but that they should not put me in a cell. They gave me a chair to sleep by the corridor. Honestly, I was impressed by the way I was treated by the Gendarmes. They treated me with a lot of respect." Barrister Nguve narrated.
Barrister Nguve further stated that Mayor Ekema had informed the military personnel that he had secessionist links. "Ekema had informed them that I ran away from Cameroon because I am a secessionist. They screened my laptop and called another gendarme who works at MTN, to screen my calls" he said.
Barrister Nguve Slams Mountain Hotel Officials
Meanwhile, the man of law expressed dissatisfaction with the unprofessional attitudes exhibited by official of Mountain Hotel.
To him, the management of the hotel did not do well by releasing his room number to military officers. He decried the fact that his room was opened by the management of the hotel for security officers to search it in his absence.
"Patrick Ekema wanted to implicate me because my name featured in a power march organised years back by the SDF party. Since then, the Mayor had accused me of fighting against his regime."
Mt Hotel Officials Apologise, Condemn Ekema's Abuse Of Power
Accosted to find out what actually happened, the Management of Buea Mt Hotel, apologised for the the shabby treatment of their client and condemned the abuse of power by Ekema and the military who are using their privileged positions to inflict pain on others.
Asked why the Hotel management sold out their client to the Mayor and his armada of troops, the Hotel's Manager, Grace Mbinglo, said though she was not present at the scene, the workers at the scene are trained to respect State authority, and under such circumstances, they are helpless and are expected to just cooperate, especially as they rely on them (officers) for the protection of the very customers.
"We are called upon to protect our clients and we are called upon to protect the security of all of us. We did not go contrary to what we were supposed to do".
On the searching of a client's room in his absence, she said if normal officers had come to search the hotel, she would have objected.
She said those who came, were led by the Commissioner for Territorial Surveillance at the Southwest Governor's office, Atangwa Anangou and since they have jurisdiction over hotels, management just had to cooperate.
To her, since the client was not around, she was there to ensure that everything was done as prescribed by the rules in place. "We cooperated to prove that we were not hiding a criminal. Mr Nguve is our regular client; we regret that he was treated that way. We just hope that he will understand, we did our best to protect him, but at the same time, we just had to cooperate with law enforcement and I am happy that at the end, they have seen that he is not a criminal. I hope there will be better ways to handle the issue, so that it doesn't drag further."
To her, the situation on the part of the hotel was not malicious, as she outlined that Management has offered verbal and written apology to the client.
Mrs Mbinglo expressed her disappointment to the initiator of the false alarm, who is Mayor Ekema. Grace Mbinglo said she believes that her client (Nguve) made the accusation against the hotel in anger.
"It is normal for him to feel that way. We did all we could to protect him. He must have said those things in anger. In all honesty, Mountain Hotel is safe. We acted as we are supposed to do. To cooperate with security officers and at same time protecting the security of our clients," she said.
The Hotel Manager said she takes responsibility for the shortcomings, and also pray that those with power should use it accordingly, and not to hurt her clients.
To her, if there was a suspect at the hotel premises, the right person to contact will be the Hotel's management and not heavily armed officers, whose presence may scare her customers away.
Barrister Kingue Reacts
Reacting to the incident, Barrister Thompson Kinge, colleague and Cousin to Barrister Nguve, said the incident has proven that Mountain Hotel is no longer safe. "Anyone who goes there is a suspect of the Anglophone Crisis. We think that Mountain Hotel is being managed by the Mayor of Buea, who decides who to go there and who not to," he fumed.
Asked whether Mayor Ekema manages Mountain Hotel or decides who come there, Mrs Mbinglo said the hotel, though Government-owned, is run on resources brought in by clients, and that they cannot give preference to one group of clients over the others.
On whether Mayor Ekema has called to apologise for raising a false alarm and harassing her client, the Manager said the Mayor has not said anything yet. She said she will not encourage settling of personal scores or abuse of power on the Hotel premises.
Many Others Languishing Behind Bars
Meanwhile, we have learnt from credible sources that many other people are languishing behind bars on the instructions of the Mayor. The municipal authority is allegedly using the Anglophone Crisis to settle personal scores with his political adversaries, tagging them as secessionists and sending troops behind them.