By Hope Nda
International non-governmental organisation, Human Rights Watch, HRW has condemned both Governments of Cameroon and the United States for "serious" human rights abuses they have committed against Cameroonians who sought asylum in the US during the past three years.
HRW says the US Government violated international law governing refugees as it imprisoned and deported about 190 Cameroonian asylum seekers back into the country, where they were subject to inhumane treatment from local authorities.
In an elaborate report published on February 10, HRW says the US Government used a "discriminatory border expulsion policy" to bar all asylum seekers from entering into the country in 2020, using COVID-19 as pretext.
The country deported about 80 to 90 Cameroonians in October and November 2020 alone, without considering their safety when they return to the country.
"Human Rights Watch research shows that US authorities not only sent Cameroonians back to harm, but also subjected them to serious human rights violations in US immigration detention, failed to fairly adjudicate many of their cases, and failed to protect confidential asylum documents, which were confiscated by their government. For these reasons, US deportations of Cameroonian asylum seekers violated US obligations under international human rights and refugee law," the release partly reads.
"By returning Cameroonians to face persecution, torture, and other serious harm, the US violated the principle of nonrefoulement, the foundation of international refugee law. Given the documented harm and ongoing risks the deported people face, the US government should urgently offer Cameroonian asylum seekers deported in 2020 and 2021 the opportunity to return via humanitarian parole, the mechanism that allows people to enter the US temporarily on humanitarian grounds. US Citizenship and Immigration Services should permit them to re-apply for asylum through the affirmative process," HRW states.
While being deported to Cameroon, asylum seekers are handcuffed or chained. They are then taken to detention facilities where they are abused and tortured by the police and gendarmes under government's supervision, for "spoiling the name of the country".
A deported asylum seeker named Esther recounted her ordeal to Human Rights Watch in an interview: "I was arrested and detained [by gendarmes]… I was raped. I was well [seriously] beaten, I was tortured, I lived mostly on bread. They said we are the people that have gone out and spoiled the name of the country… so I have to pay for it dearly."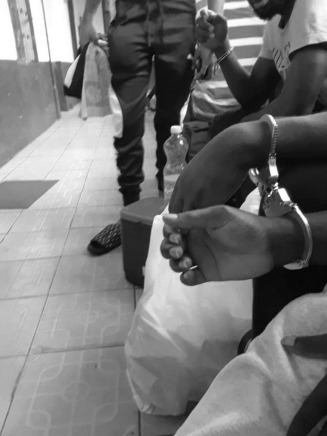 US government's hypocrisy in upholding human rights
The deportation of Cameroonian asylum seekers tarnishes America's superpower reputation as a guarantor of human rights and freedoms.
Based on HRW report, deportees said they were disappointed to find out that the US does not protect the vulnerable, as it prides itself on the international scene.
HRW says the "hopeful belief" in the US as land of freedom has been "shattered for scores of Cameroonians who spent months or years in abusive US Immigration and Customs Enforcement (ICE) detention, only to be deported."
According to deported asylum seeker, Esther, who spoke to Human Rights Watch, "The human rights in America that I always looked up to, now I don't believe these human rights exist, because of the way that we've been treated and sent back to our country, where we are going through pain."
According to HRW, these deportees had sought protection from the US for fear of extradition from African countries like Nigeria; family and community ties in the US; the language (many who fled are English speakers); and a belief in a "high standard of human rights" in the US.
The US Government has deported at least 190 Cameroonian between 2019 and 2020, most of which were conducted in October and November 2020.
Despite advocacy and protests of activists, lawyers, and US Congress members, the US administration under President Joe Biden went on to deport several people to Cameroon in October 2021, according to Human Rights Watch.
Most of these deportees are coming from the English-speaking regions of Cameroon, where violence and threats from both state and non-state actors have caused many of them to seek safety abroad.
Cameroon Gov't targets Anglophone deportees
Although soldiers tortured Francophone Cameroonian deportees as well, HRW says they tortured Anglophones even more. In fact, soldiers targeted English-speaking Cameroonians who were deported, alongside their family members.
"We also documented persecution against deported people for the same individual reasons they originally fled Cameroon. Others said authorities arbitrarily targeted them for being Anglophone, but treated them worse if they learned they had been deported," reports Human Rights Watch.
In some cases cited in the HRW report, soldiers harmed and killed family members of deported asylum seekers in the Northwest and Southwest regions.
"In seven cases we documented, state agents beat, abducted, detained, harassed, and in one case reportedly killed, relatives in connection with deportees' returns," HRW states.
"In the North-West region, allegedly while searching for Esther, soldiers opened fire and killed her 35-year-old sister. In the South-West region, while searching for George, five soldiers attacked his 60-year-old mother. "They beat her with a military belt…and they threatened her with guns… She fell down crying, so then they kicked her with their military shoes, and they were hitting her with sticks… They broke her bones," George told HRW.
Serious abuses committed by Cameroon soldiers
Human Rights Watch's research exposed several human rights atrocities the Government of Cameroon has been unleashing on deportees when they return to the country.
This report contradicts self-righteous claims by Cameroonian government officials who often claim to journalists the country is a State of law and order, where justice reigns and prevails.
Contrary to this, HRW says, between 2019 and 2021, Cameroonian authorities have subjected returned deportees and their family members to "serious human rights violations including rape, torture and other physical abuse, arbitrary arrest and detention, inhuman and degrading treatment in detention, extortion, and threats."
These abuses are perpetrated by the police, gendarmes, and military personnel, among other officials and state agents, says HRW.
In the English-speaking regions, HRW says separatists fighters are reported to have beaten at least one deported person and threatened the relatives of others.
"Our research indicates government forces detained or imprisoned at least 39 deported people after return. This includes 19 people we interviewed who were detained in jails, prisons, military camps, or other detention facilities, both legal and illegal, for periods ranging from days to months," the Human Rights Watch report states.
It furthers: "One man was detained twice. Many were held without due process or incommunicado, in some cases in circumstances that may constitute enforced disappearances. Nearly all described squalid detention conditions with little to no food, medical care, sanitation, or protection from Covid-19. Credible sources indicated authorities detained at least 20 other deported people as well, while additional unconfirmed reports suggest the total may be higher."
HRW also reports 13 cases of torture and abuse, including three cases of deported women who were sexually abused by government soldiers after they were arrested.
Richard, a man imprisoned for a month after deportation, told HRW in an interview: "They said, '…You left and thought we wouldn't get you… You will die in this jail'. "They took off my [clothes], so I was naked, and they beat me…for 14 days, every day… They were making me feel that's the end of my life."
Urgent actions both Gov'ts need to take
In its publication, Human Rights Watch says both the governments of Cameroon and the USA should take "urgent" actions to avert the human rights atrocities meted on asylum seekers.
HRW says the US needs to first stop the deportation of Cameroonians and grant Cameroonian asylum seekers a "Temporary Protected Status (TPS)" that permits them to reside in the country so long as their safety in Cameroon remains unguaranteed.
"Given that people deported to Cameroon may face serious risks to their lives, freedom, and safety upon return, the US and governments worldwide should suspend deportations there. In addition to considering Cameroonian sur place asylum claims, the US government should designate Cameroonians in the United States for Temporary Protected Status (TPS), as, per TPS statutory requirements, "extraordinary and temporary conditions" in Cameroon make safe return impossible."
Human Right Watch notes that the US Government also needs to grant those who have already been deported between 2020 and 2021 a "humanitarian parole" which permits them to return to the US temporarily on humanitarian grounds.
The international NGO also calls on the US Government to reform it immigration and asylum systems, eliminate barriers to asylum seeking and unnecessary detention of asylum seekers should be scrapped.
Meanwhile, HRW charges the Cameroon Government and armed separatists in the English-speaking regions to "cease all abuses against returnees and their families, including torture, rape, inhuman and degrading treatment, arbitrary arrest and detention, and other violations, and investigate allegations of such mistreatment."