By Amos Fofung Nkunchoh
Nigerian pencil artist, Eli Waduba, is now enjoying unprecedented fame for his talent after one of his posts went viral on twitter last week.
The Nigerian artist, though popular in his community in Nigeria for his talent, was not well known outside the African continent, but after he posted a portrait of a pencil drawing, he did on US comedian Kevin Hart his story entered a new lane.
Last week, the pencil artists who says he hails from Kaduna, a locality in Nigerian North West took to popular social media platform, Twitter and posted a pictorial representation of a pencil drawing he did on Kevin Hart, pleading that the post be re-twitted until it reaches the stand-up comedian and actor Kevin Hart in the United States of America.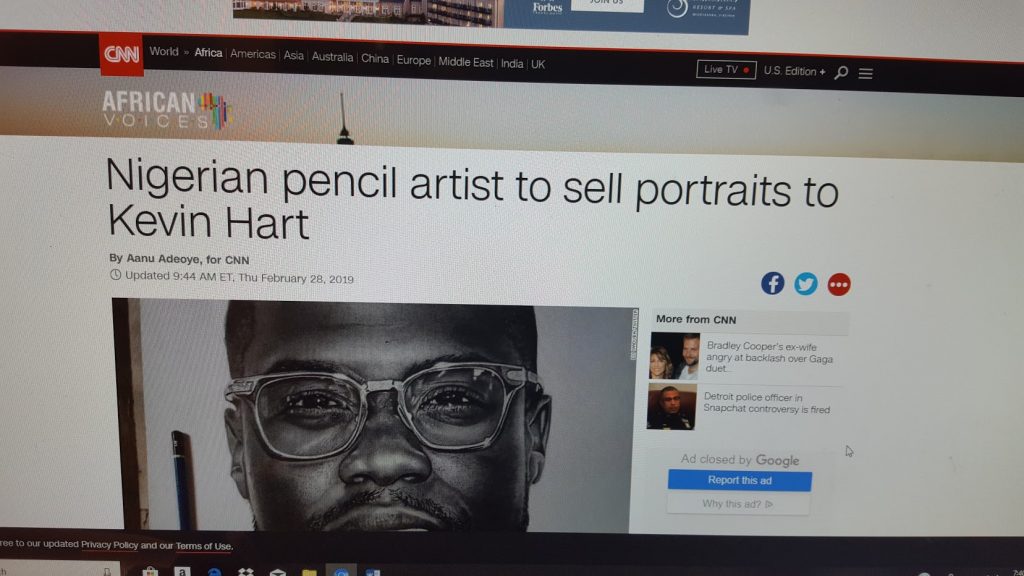 And he did get his prayers answered. After thousands of retweets by people who were not just determined to help spotlight the young Nigerian, but marveled by his piece and talent, Kevin Hart did see it and not only expressed his love for it but said he wishes to pay for and have the portrait. The US comedian made known his intentions to engage in further business with the pencil artist.
In his tweet, he wrote that "I see it and I want to purchase it…I also want to support you and your amazing talent by giving you a fee to do a pencil drawing of 3 of my celebrity friends that I can gift it to them."
For the twenty-six years old Waduba, it's the culmination of a journey that began many years ago, a vindication for all the hard work he has put into his craft. While many around the world continue to marvel at his talent, many are those who believe that social media might just have helped this boy from rural Africa to wave goodbye to poverty, a sickening syndrome in the continent.
Nigerian art curator Akinyemi Adetunji told CNN that the "trend has been made possible mostly because of the power of social media…the influence of social media has opened up the industry to external influences…"
Waduba, we gathered, has been drawing since he was 9, and after graduating from Kaduna State Polytechnic with a degree in Cooperative Economics and Management, he decided to put more time into painting, his passion.