PM Dr Joseph Dion Ngute has revealed that economic operators are actively engaged in efforts to economically revive the economy of the Northwest and Southwest regions that has been dwindled by years of fighting as a result of the Anglophone crisis. AC has been told Boissons du Cameroun has offered FCFA 500 million for the redoing of the Bamenda and Kumba Stadiums.
In a post-meeting interview after the 5th Committee Meeting focused on developing a new roadmap to revive the Northwest and Southwest economically, the PM told reporters that during the just-ended session, Boissons du Cameroun, Cameroon's leading brewery company pledged to redo the stadium in Bamenda, as well as another in Kumba. "I want to thank all those who attended, the religious leaders, the civil society, and business leaders; some of them who made important pledges. For example, one of them is going to redo the stadium in Kumba and the stadium in Bamenda. You know these are very important things that we have seen today. We are very thankful to those who attended", the PM said.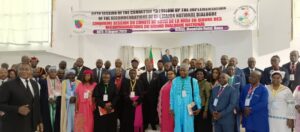 PM Dion Ngute and other stakeholders at the 5th Follow-Up C'ttee of MND meeting in Buea
He also stated that at the meeting, economic operators also outlined the various challenges that they are facing, and that also hinder the smooth operation of their businesses, as well as the economic recovery of the regions. The PM said the challenges which can be handled by the state will be promptly presented to the highest authority, the head of state, for action to be taken to ensure the smooth functioning of the economic sector in the Northwest and Southwest regions.
Anglophone regions of Cameroon have been embroiled in an armed conflict since 2017, and this has disrupted the people's way of life, as well as drastically damaged the economies of the two regions. In order to rebuild the affected regions, a Presidential Plan for the Reconstruction and Development of the Northwest and Southwest regions. To realise the project, economic operators have been beckoned on board, not only to revive their business operations but to also come on board and support the communities through projects that benefit the people.