Barrister Agbor Nkongho, Prof. Anyangwe, Dabney Yerima, Dr. Nyih and Dr. Foretia at Southern Cameroonians' Leaders Toronto, Canada retreat
A high-level leadership retreat, bringing together diverse groups of Southern Cameroonian leaders across religious, traditional authorities, civil society, Non-State Armed Groups, NSAGs, women and youth groups, has wrapped up in Toronto, Canada.
According to outlined objectives, the leadership retreat is expected to cultivate and begin nurturing trust among the Southern Cameroonian leaders across religious, traditional, civil society and various armed groups fighting for independence of Anglophone Regions. The retreat is also expected to come out with an agreement on a framework to enhance access to education, humanitarian aid and to uphold human rights in the crisis-hit Regions.
The four-day retreat is organised by the Coalition for Dialogue and Negotiations, CDN, an international non-governmental organisation of Southern Cameroonians seeking to find a pathway to credible, mediated negotiations to end the spiralling Anglophone Crisis in Cameroon.
The retreat has, as main objective, finding a pathway to credible, mediated negotiations to end the spiralling conflict.
The closed-door event which started on October 29, rounds up on November 1, 2021.
The retreat is a pioneer initiative for Anglophone leaders from Cameroon and the diaspora to sit together to assess the conflict and attempt building a consensus on how to engage all Southern Cameroonians towards a common pathway to peace.
Commenting on the expected outcome of the meeting, Dr. Denis Foretia, Co-Chair of the Coalition for Dialogue and Negotiations remarked that: "Everyone knows that there is no military solution to this war. The Government cannot win militarily. We must find all ways to bring peace and that is only possible when there is a broad consensus on the process to achieve a mediated settlement. This retreat will help Southern Cameroonian leaders and other key stakeholders define that pathway."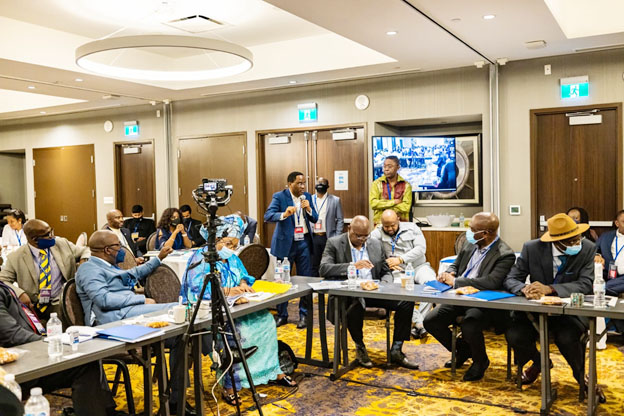 The retreat, especially on the site of armed group leaders, is also necessitated by fact that the different factions have, at several instances, not only disagreed, but gone ahead to fight each other, and also wreak havoc on some communities where they operate. Against this backdrop, the organisers of the retreat say it is necessary to establish common ground and build trust as well, for the interest of all.
Attendees among Cameroonian civil society include: the Moderator of the Presbyterian Church in Cameroon, Rt. Rev Samuel Fonki; Arch Bishop Emeritus Fontem Esua; Barrister Agbor Balla of CHRDA; US Institute of Peace (USIP) award-winner, Esther Omam.
Leaders of Ambazonian NSAGs that attended the conclave include: Ambazonia Governing Council, AGOVC, Vice Chair, Dr. Julius Nyih; Interim Government, IG-Care (of Sisiku AyukTabe) Vice President, Yerima Yapney; Consortium leader, John Mbah Akuroh; among others.
High profile attendees among the international community include: representatives from three G-7 Countries, including Switzerland and officials involved in the Swiss-led-Mediation Process.
Noticeable was absence of the Ambazonian Coalition Team, ACT involved in the Swiss mediation process. But the Swiss Government and officials of the Swiss mediation process attended.
CDN stakeholders, however, promised to ensure an inclusive Southern Cameroonian side for negotiations and would thus pursue conversations with the ACT team post-retreat to get them work together with the other NSAGs.
A snippet from the retreat says with a huge international involvement "by some G-7 countries, and the participation of the Swiss Government, chances are that, the retreat would lead to a broader international mediation of the conflict (Swiss 2.0), which ties with the aspirations of many Southern Cameroonians, as expressed in different surveys, notably the CDN 2020 survey which showed that more than 80 percent of Southern Cameroonians are in support of a multi-country international mediation of the conflict."