'Therapy', Cameroon's first-ever movie on Netflix, will be aired this Friday, March 26. Therapy's breakthrough is a history-making event, as it has broken the record in Cameroon's infant movie industry.
The record-breaking movie is produced by Sakah Antoine and Ermelinde Simo Sakah Jing on behalf of SAM's Production. This recent breakthrough in Cameroon's movie industry is a testament to the fact that the industry has come of age. The production of Therapy, by SAM's Production, with a master touch, has put Cameroon in the international arena in movie-making. The breakthrough of Therapy and SAM's Production, which has brought Cameroon to the limelight, gives hope to many local movie producers, that good stories accompanied by quality and world-standard productions can have a chance to compete in the world market.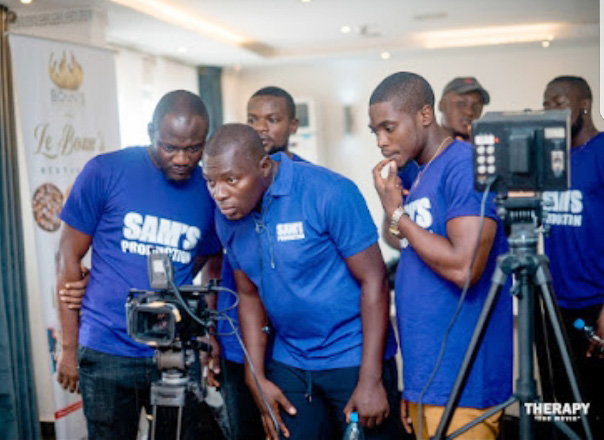 After the breakthrough moment, SAM's Production stated that "The Journey has been a very difficult one, but finally we are here. Hopefully, this big move will act as a stepping stone for Investors, Economic Operators and all stakeholders to throw their weight behind the Cameroon movie industry."
On what this could mean for many, SAM's production says the movie industry is "a sector that can create lots of job opportunities for the youths. Hollywood did it for the USA, Bollywood for India, Nollywood for Nigeria and Collywood can do it for Cameroon."
On what the state can do to support the movie industry in Cameroon, the production house says, "The State needs to increase its financial support for Cameroon Cinema. Cameroon Cinema can contribute greatly to the Emergence of Cameroon. More than a million people are employed permanently in Nollywood. That can happen in Cameroon as well but it needs the right financial investment."
 Despite the hurdles stifling the Cameroon Movie Industry like marketing and distributing output, the Producers of Therapy settled for the best, produced the best, and now, it has broken a record and uplifted Cameroon's movie industry to the international arena.
Netflix, the platform that will air 'Therapy' this Friday, March 26, is the world's leading content and production platform based in California, USA. The movie will be streamed by the platform that has over 200 million subscribers worldwide.
Therapy stars the African legendary @mofedamijo, @iretidoyle and Cameroon top-notch likes of @ermelindesakahjing @alennemenget @syndyemade @luciemembabos @nebagodwill @mrsobasyndula
Produced by @sakah_antoine @ermelindesakahjing
Directed by @artnurin @musingdericktenn
DOP @reneetta
Gaffer @rapha_obi_tambe
PM @bankz_bantar_
Continuity @jessienehwah
Production design @willstonmokom
Makeup @maminewlook, @lelioachanga
Sound @simplypriestly
Props @jollylivebooks
Photo credit @switch.entertainment