NOTE: Minimum Admission Criteria
– Above 18 years as of Application date
– Must have Advance Level certificate from any of the High schools in Cameroon
STEP 1, applicant Fill out the online application. https://joinitsolutions.com/ub-partnership/
STEP 2, Admission Team UB/JoinIT
Payment of the tuition and filing out the form-b is what guarantees your enrolment into this program. You will receive an email from the admission team with instructions on how to pay your registration and the first instalment. This information will be sent within 5 business days from the date you applied. The Email will contain email addresses and phone numbers needed in the next steps.
STEP 3, Applicant
Once you make the payment, send a picture of the receipt via email or WhatsApp to the numbers or Emails provided in STEP 2 above.
STEP 4, Admission Team UB/JoinIT
Once we receive the receipt and confirmation of your payment, you will be added in the actual class group and a FORM B emailed to you to fill out and return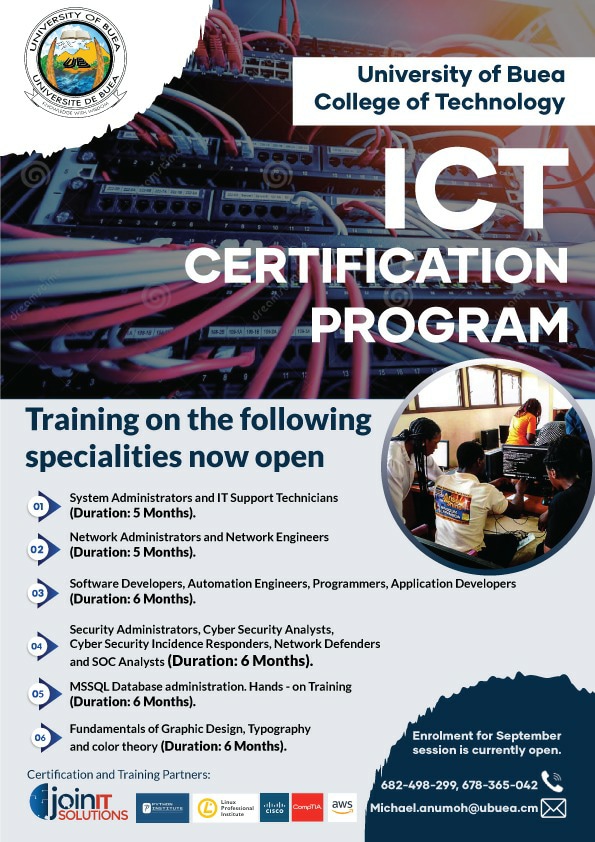 STEP 5, Applicant
Once you fill out the Form B, scan and email a copy to the emails provided in STEP 2 or turn it in on Campus in person.
Remember the number of spots are limited and this shall be treated in a 'first-come, first-serve basis
STEP 6, Applicant
Get ready to attend the orientation (Date to be announced) and be prepared to start classes.
For more information about schedule, Computer requirements, check the application link above
Good luck in your IT Journey.
Start and develop your IT career with us.
Get Started Today!
COLTECH UB – JoinIT Team.
Why is this partnership a highly recommended opportunity for you in Cameroon?
You are exempted from registration fees (35000FCFA) for, and writing of a highly selective competitive entrance examination as condition precedence for admission into the Prestigious college of Technology of the University of Buea (with an over 80% probability of those in the arts not succeeding-obviously). Our recommendation alone, and to you in our program, is your safe access 🔑.
It is now a certification program. This means, in addition to your hands-on skills developed through JoinIT Solution's advanced curriculum, you are to earn a certificate upon completion, which shall be awarded to you by the College of Technology, University of Buea.
You are now not only having handy, the job recruitment requirements of the outside world alone, but also of Cameroon, (certificate based economy). Your skills will have been "endorsed" nationally by the fact that, you now have a certificate from the University of Buea, a national Institution.
We have, by this partnership, furthered our intention to proof our credibility, and the integrity of this lucrative skill-based program, especially to persons with the least of doubts about our genuineness. Follow the testimonies from our Alumni for more of such, and be the next big Story, as another assurance to the next batch.
Take Notice:
The new payment schedule is one of the major conditions we needed to painfully comply with, for your sake, seeing all these benefits you will immediately be opened to, upon effective completion of your course with us.
JoinIT Solutions and College of Technology of The University of Buea partnership
JoinIT Solutions is pleased to announce partnership with the College of Technology of the University of Buea, meant to offer Microsoft SQL Server Database Administration training (DBA). This 6-months first of its kind hands-on instructor-led training will equip learners in Cameroon with the necessary skills to apply and pick up Microsoft SQL Server Database Administration Jobs as well as other data related jobs such as Data analysts,  Database Developers, Database Architects and Microsoft Azure Database Administrator roles in both local and international companies.
This 6 months online training will focus on Administering SQL Server on-premise, as well as exposure to cloud computing covering Azure fundamentals, and administering relational databases in Azure. Throughout, trainees shall be evaluated on projects and assessments to ensure they grab both the theory and practical knowledge in administering SQL Server databases. At the end of the training, trainees will register and write Microsoft certification – DP300, Administering Relational Database in Azure and will be issued an end of course certificate from the college of technology, University of Buea.
With companies now looking for role-based skills, and outsourcing IT Jobs to other countries, this training will equip our trainees in Cameroon with hands-on skills needed to be relevant in this era of information technology.
Our partnership with the University of Buea goes beyond training database administrators. We will also focus on other role-based training in both on-prem and cloud computing.
Also, through the College of Technology, JoinIT shall organize career fairs to provide networking events for graduates and employers. These events will serve as a platform for organizations to gain strategies on how to restructure their IT departments while bringing in role-based skills for effective productivity.
Deadline for registration into the 2022 class session is October 4th. The training will begin on October 5th. Spots are limited and priority will be given to those who meet the training requirements. This will be on a first come first serve basis.
Click this link for details and application forms
Training Requirements
Computer, Minimum specifications
Windows 10 or 11 Pro Operating system
16 GB RAM
500 GB Storage
Second monitor (External Monitor)
Good internet connection
Availability to attend classes
Class schedule: This time table takes into account, hours of good internet connection and also accommodates those who are working
Mondays 3:00AM – 6:00AM Cameroon Time
Wednesdays 3:00AM – 6:00AM Cameroon Time
Saturday 12:00AM – 3:00AM Cameroon Time
For more information contact:
JoinIT Solutions:
JoinIT Solutions: Contact@joinitsolutions.com, +12109937190
College of Technology, UB:
Michael Anumoh: michael.anumoh@ubuea.cm, +237682498299
Ateh Thompson Pepeah: thomsonateh.aaf@gmail.com, +237675589190