By Andrew Nsoseka
Over the years, the Centre for Community Regeneration and Development, CCREAD-Cameroon, in a bid to curb the indiscriminate and unlawful exploitation of the Cameroon-Bakossi rain forest, has put in resources to protect the forest from forest depleting activities.
One of such activities CCREAD-Cameroon has put in place is equipping community members with tree propagation techniques such as agro-forestry practices. Through this initiative, the organisation is creating cocoa and palm nurseries to fight against the extension of farmlands into protected forest areas. This is done while boosting farmers' yields as the nurseries are always used for farm regeneration and for the creation of woodlots in deforested areas.
The creation of community nurseries in the Cameroon-Bakossi rain forest came after a number of sensitisation campaigns on forest and wildlife conservation, sustainable forest management practices at community level, understanding the meaning of rainforest and wild life, importance, threats, and management of the rainforest and wildlife.
The nurseries setup by CCREAD-Cameroon are often made of Non-timber forest products, NTFPs, and other economic trees. CCREAD-Cameroon leads the community in the selection and preparation of sites, tilling of organic soil, provision and soil filling of biodegradable plastic bags, and nursing of seeds. It carries out these nursery creation activities alongside inhabitants of each of the beneficiary communities.
According to the Director of CCREAD-Cameroon, Dr Hilary Ngide, ever since the implementation of activities under the Rise for Nature programme, CCREAD-Cameroon has helped communities in the Cameroon Bakossi rain forest set up at least 70 giant agro-forestry nurseries in more than 10 communities. Each of them contains a minimum of 20,000 NTFPs which are transplanted to farmers' farms and in deforested areas.
The aim of creating these nurseries, Dr Hilary Ngide explained, is to reduce deforestation, while, encourage afforestation and reforestation – this in a bid to increase yields in cocoa production as well as enhance alternative sources of livelihood.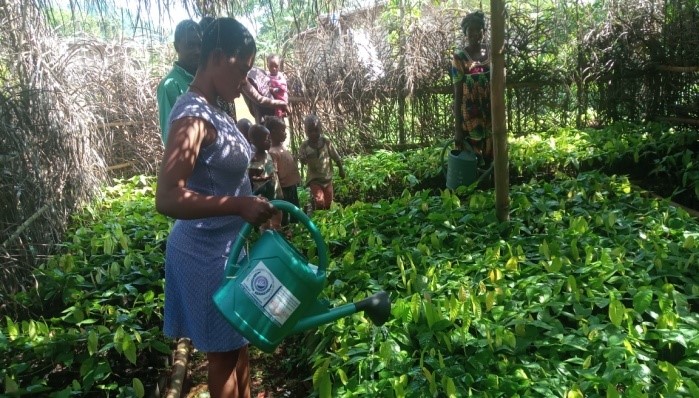 Scarcity of water in some communities, bad roads and long trekking distances of about three or more hours to get to some communities made accessibility difficult. To the Director of CCREAD-Cameroon, all these challenges could not stop his team from creating the nurseries as, to him, this action will reduce, deforestation, develop effective control strategies at community level while mainstreaming actions to support local communities to improve and diversify livelihood activities.
At the end of the nursery setups in different communities, a greater number of youths, alongside members of the community, applauded the initiative, expressing gratitude to the organisation and its partners for educating and initiating such an activity in their communities. While asking for more of such similar projects in their communities, the locals also urged the organisation to carry on such beneficial activities to other forest zones.
CCREAD-Cameroon is implementing these activities across Cameroon's Southwest Region in partnership with Cool Earth, with the aim of protecting rainforests, promoting sustainable livelihoods and strengthening community-based mechanisms for the sustainable management of natural resources in 2021 and beyond.