Cameroon's Ministry of Women's Empowerment and the Family, MINPROFF on August 2, 2022, admitted Reach Out Cameroon's Executive Director, Omam Njomo Esther alongside some distinguished achievers into the African Heroines Hall Of Fame.
Omam Esther was awarded for her strides in the field of peace mediation and humanitarian response in Cameroon. The organisation she heads, Reach out Cameroon has been outstanding and instrumental in humanitarian response, especially in Anglophone regions of Cameroon where the war against separatist fighters has been on for over five years, and has left thousands of people, especially women and children in need of humanitarian aid.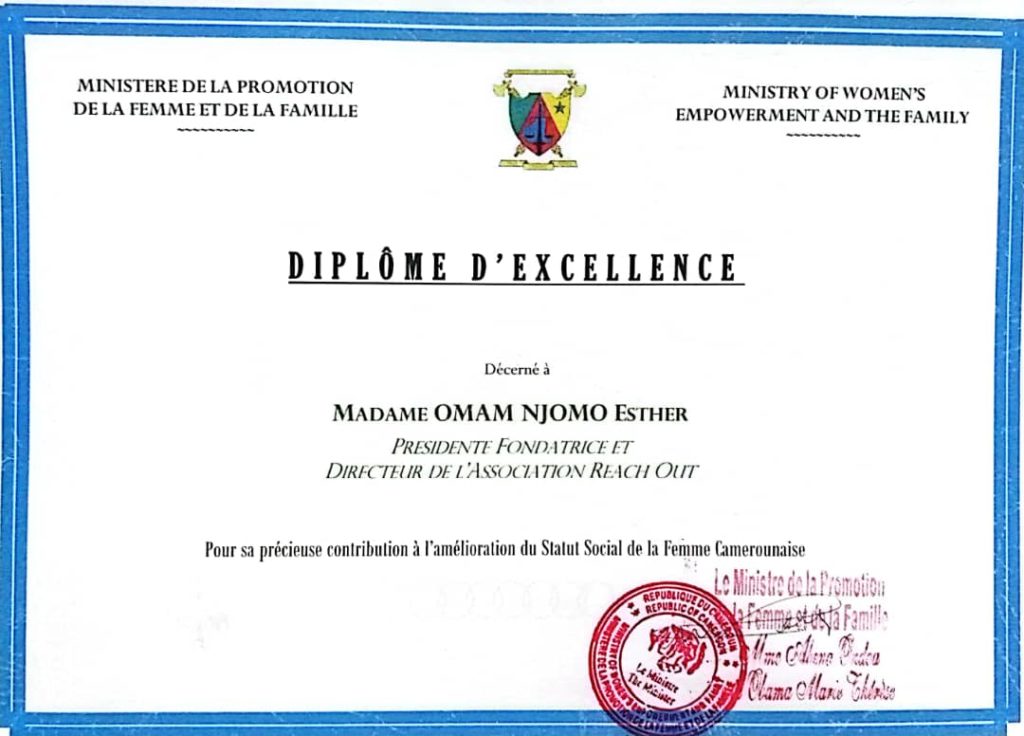 The award was given in Yaoundé during the commemoration of the 60th edition of the Pan-African Women's Day. This year's edition was themed "Generation Equality: Realising Women's Rights for an Equal Future".
In her acceptance speech, Omam Esther expressed gratitude to the Minister of Women's Empowerment and the Family, Prof. Marie-Therese Abena Ondoa for championing the struggle for gender equality. "…this generation recognises your efforts. I am deeply honoured to share in your limelight and to receive this award in the field of peace mediation and humanitarian response in Cameroon", she said.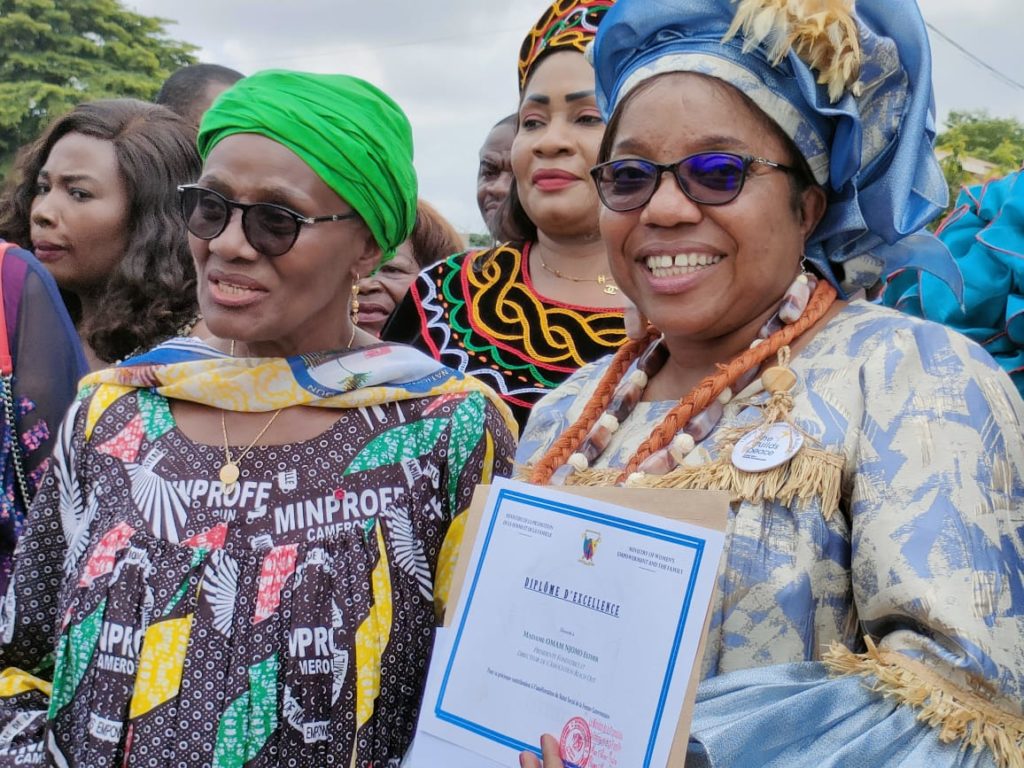 She furthered that the award is a testimony of the resilience, dedication, and sacrifices of Reach Cameroon's Board of Directors, her collaborators and herself to see that they build just and peaceful communities despite the many challenges encountered when delivering services to the most vulnerable especially women and children in the communities and regions where they serve in. "As we drive for generation equality, I use this opportunity to express immense appreciation to my husband who recognised the need for gender equality and has stood by me from day one. This award is equally for all the men out there who understand that gender equality and recognition of women's rights is a prerequisite for growth both at community and national level."
Omam Esther however regretted that "For 60 years counting, the African woman has struggled to exercise her rights and our voices have been blown away in a wind of patriarchal socio-cultural norms and traditions that have not only retarded the emancipation of women but held back the development of the continent."
She said the situation of conflicts in Cameroon especially the Anglophone crisis in the Northwest and Southwest regions, the Boko Haram insurgency in the Far North Region, and the Selekas in the East Region have created more problems. "In my time and capacity as the Executive Director of Reach Out Cameroon, I have witnessed first-hand, how these multiple conflicts have exacerbated the vulnerabilities faced by women and the girl child.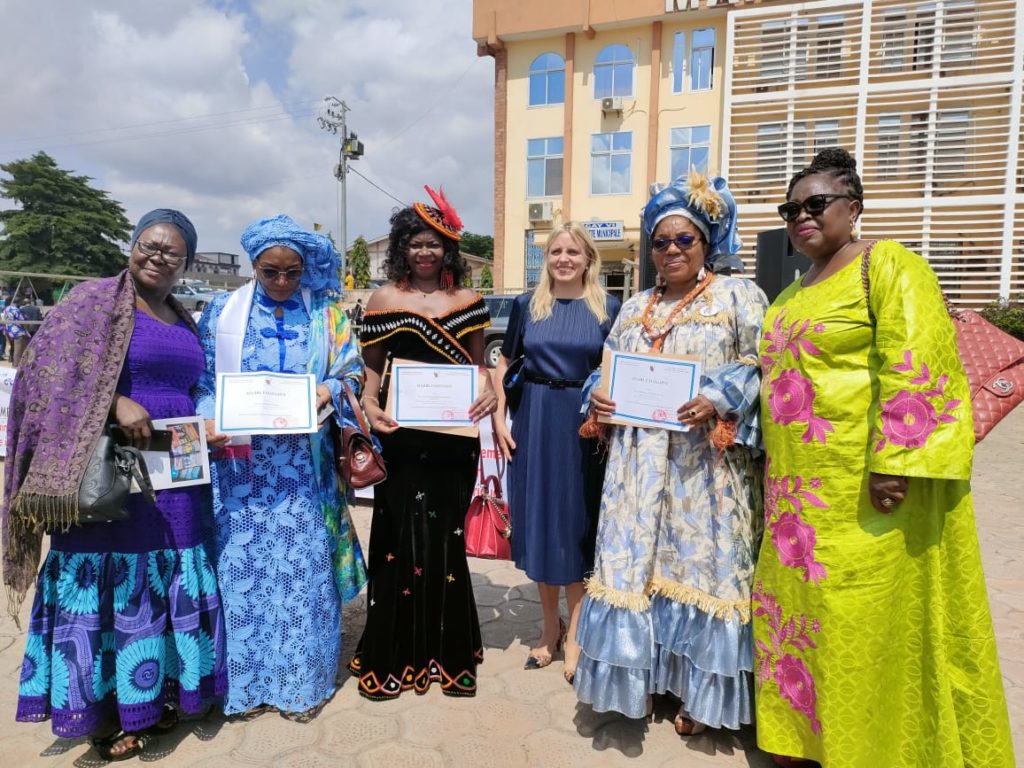 "These conflicts have eroded most of the gains made with regard to the Sustainable Development Goal number 5 on Gender Equality. Women have been disproportionately affected by the raging crisis. Many are those like myself who have been threatened in the course of doing their work, some have been maimed for life, targeted, kidnapped or simply killed. We have seen the increasing use of Improvised Explosive Devices (IEDs), attacks on school children, other senseless killings thus increasing the death toll", she said.
Still, on her recognition, Reach Out Cameroon's Executive Director, said joining the train of African heroines from Cameroon who were there before her like Delphine Tsanga, and Alpine Ekotto and gaining admission into the hall of fame of African women who have been fighting for the valorisation and emancipation of women in Cameroon is the coronation of all her efforts as a female leader in Cameroon.
"I feel more than humbled by this noble recognition which comes with many responsibilities", she said. She said she will, like before, continue honouring her responsibility in the fight against gender-based violence and all forms of discrimination against women and girl children; eliminate forced marriages and genital mutilation in communities, value domestic workers and stop unpaid use of our young girls as house helps and promoting equal rights to land and properties, especially widow's rights in local communities. She also promised to work towards increasing the effective and meaningful participation of women in decision-making bodies.