The Mayor of Buea, Patrick Ekema Esunge, Monday, July 8, went amok again, destroying business structures in the Buea metropolis.
Ekema, who suddenly went comatose after granting an interview to a newspaper, confessing that he is using mystical powers (Juju) to fight ghost towns and Amba Fighters from infiltrating his area of command, resurfaced on July 8, accompanied by a mixed military contingent and the Buea Municipal Police, descended on the streets of Buea, wrecking shops open and other mobile business premises that were closed in respect of the ghost town phenomenon.
In a press outing, the Mayor maintained that he will continue destroying shops and business premises, until a time when shop owners will desist from adhering to calls from separatists.
At the Mile 17 Motor Park, stores were sealed, while Mobile Money and Airtime transfer kiosks were knocked down and their metallic roofs punctured severally with heavy metal equipment.
At the fruits stands usually manned by old women and young girls, the Mayor and his cohorts shattered the wooden tables, and smashed some fruits that were conveniently covered on the tables.
The destruction left many in awe, given that the business places that were completely destroyed belong to people who are struggling to make ends meet and at the same time, paying taxes to the Council.
From the Mile 17 Motor Park, the Mayor's destruction clique moved to Molyko, where they also destroyed scores of mobile kiosks belonging to MTN, Orange and Nexttle Cameroon and some betting companies.
Gunmen Chase-Off Ekema From Mile 17
The Mayor and his armada of troops continued their destruction on Tuesday, July 9, which was observed as a ghost town day as Southern Cameroons jailed leaders were expected to appear before the Yaoundé Military Tribunal.
A worker at the Mile 17 Motor Park, who witnessed the Tuesday drama at the Park, said the Mayor and his team only refrained from entering the Park on Tuesday, when some suspected Amba Fighters stormed the Park, waiting for the municipal authority.
"When those boys came out at the back of the Park, the Mayor and his troops drove pass the Park and went back to Molyko where they came from," our source narrated.
On whether there was any confrontation, our source said both sides did not want to engage in a gunfight.
"The gunmen came out spoiling to disrupt any further destruction at the Park by the Mayor and his military. Things were already returning to normal. Some people even started coming out to sell on ghost town days until this madness by the Mayor. With what has happened now, Amba Fighters will start coming out again and before we know it, gun battles will resume at Mile 17 all because of the Mayor," our source regretted.
When our team approached another source at the park, he sighed and retorted: "have they bought you too? He asked us. "Look at what is happening in town, I expect to see all of this written and condemned. Look at the destruction in the Park, look at where the old mothers sell, look at the mobile kiosks, and the next thing you see on TV, read in some papers, and hear on radio is how a God-given Mayor is doing this and that. Look over there at the pile of dirt; is it not the role of the Council to make sure that it is carted away and dumped in a place where dirt belongs? Instead they come and make life more difficult for an already suffering people. Please write about these things."
After being chased-off at the Mile 17 Motor Park, the Mayor and his team set their destruction machinery in Malingo, where shops and mobile kiosks were also vandalised.
Military Officers On Guard Condemn Ekema's Action
Condemnation of the Mayor's act did not only come from the community, but also from state military personnel on guard at the Mile 17 Motor Park.
An officer, who spoke to The Post Newspaper, condemned the destruction, stating that it will further jeopardise their relationship with people in the Park, which they have been trying to rebuild.
"We were already developing a rapport with the Park people. We were developing a mutual relationship, this destruction is uncalled for. It will make it harder for people to collaborate with us. All they know is that it was done in the company of the military. It is shameful," the military source bemoaned.
He went on to say trust is hard to build, and that he won't blame people if they distrust them.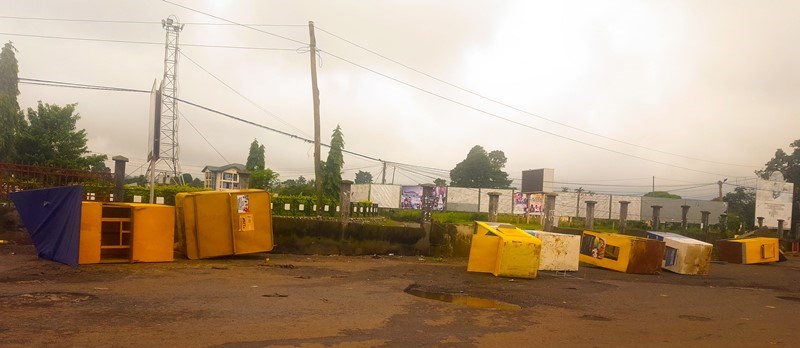 "They are like anyone, they need their petty businesses to survive, and it is cruel to do this. Sometimes these poor women are the ones who give some of us food; the Mayor himself does not care. He comes, destroys, and goes, and they expect us to build trust with the people. Some of these kiosks are owned by young people, when you destroy what keeps them going, what do you expect? People become bitter. The action of the Mayor is what radicalises some of them, and they pick up arms and go into the bushes, and the burden will be on us to fight them. That is not the way. These acts only radicalise people. I have lost friends, and if it has to stop, then this destruction has to stop too, we need to build trust, not radicalise the few who are left," The Post's source said.
When we reached one of the old women, selling fruits at the Mile 17 Motor Park to comment on the destruction of her place, she simply said, "The Mayor is a rich man, they decide which business to destroy, my capital cannot even sponsor his drinking in one sitting. He is rich; my family survives from this business, which is where I get money to send my kids to school. He is bent on sending us to our early graves. I know that there is a God seeing all of these things, I leave it all to Him…the Mayor is the rich one. Let him treat us the way he wants."
Some observers hold that Ekema's action is a way to raise money, given that shop owners often pay a penalty to the Council authorities, ranging from FCFA 10,000, 25000 and more, just to have their shops unsealed.
Reports also hold that the Mayor's activities are sponsored directly from the Civil Cabinet of the Presidency, which has been convinced by the Mayor that extreme measures can be used on the people to dissuade them from respecting the dictates of Separatists.
In this regard, Ekema has reportedly been given the green-light to do 'whatever' is needed to stop the respect of the ghost town phenomenon.