By Njodzeka Danhatu
Thousands of Cameroonians have planned a protest march today to storm the Yaounde Conference Centre as the Cameroon constitutional council is set to proclaim the winner of the October 7 presidential election.
The call for protest is coming after the council rejected all the post-election petitions filed in by the some 3 opposition parties demanding the total and partial annulment of the results which they claimed were marred by irregularities.
Last night, reports went viral on social media that the campaign manager of Maurice Kamto, Paul Eric Kinge has been arrested, while other report says his house in Yaounde has been surrounded by security forces.
As a matter of fact, security has been strengthened all over the country for any eventuality that might come up as a result of the declaration that will commence as from 11am today.
In Buea, the security forces arrested so many youths on October 21 in Bunduma and as we write gun shots can be heard coming from that area.
Today's protest will be coming barely 24 hours that the Cameroon security forces frustrated another protest march in Douala that was organised by the Social Democratic Front's Littoral chairman Jean Mitchel Nitcheu.
The organiser as well as other activists, were put under house arrest and protesters who dared to show up at Rond Point Dhakar Douala were arrested. According to social media sources, Journalists were equally arrested.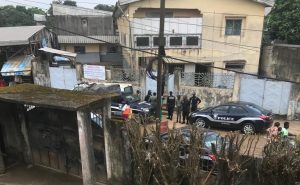 All these calls for protest are based on the fact that the incumbent President Paul Biya of Cameroon will still be proclaimed winner. After the exit Polls, the Cameroon Renaissance Movement Candidate, Professor Maurice Kamto claimed Victory on the 8 of October but later called for partial conciliation of results in other regions as he said the results in those areas were tailored in favour of Paul Biya.
On Saturday 20th, hundreds of Cameroonians in Germany equally went on the streets protesting against the imminent victory of Mr Biya. According to them, the constitutional council was biased in its judgement against Kamto. The protesters called for Biya to step down and hand power to Muarice Kamto.
While the winner will be known in few hours from the time of this report, the president of Equatorial Guinee Teodoro Obiang Nguema two days ago sent his congratulation messages to President Paul Biya who is seeking another 7 year term after ruling Cameroon for closed to 40years.