Buea DO Threatens SWECC President With Administrative, Disciplinary, Penal Sanctions
Buea DO, Paul Wokam, has claimed that Governor Okalia's utterances were blown out of proportion by Southwest Chiefs Conference President, HRM Mafany Njie Martin.
Avoiding to use, or quote the words of the Governor who had categorically threatened to dethrone Chiefs who fail to march holding placards on 20th May, Woukam said Chief Martin Mafany Njie's, outing condemning Governor Okalia's utterances, will demobilise the population and undermine efforts made by public authorities to have a successful national day celebration.
Woukam chided the outing of the SWECC President, saying that, instead of galvanising efforts for a successful May 20, the SWECC President has rather involved Southwest Chiefs in a matter he (Woukam) claims was limited to Buea Chiefs.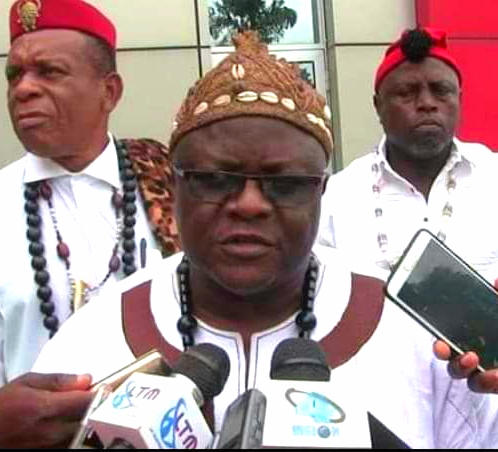 "I deem it necessary to remind you that, in your capacity as an auxiliary of the administration, such agitations are punishable, both at the administrative and disciplinary and penal levels, especially in this period of security challenges." Kouam wrote.
He added that the "letter of observation is intended to convey to you (HRH Mafany Njie), my total disproval of this malicious, odious and intriguing attitude as well as firmly caution you against such misconduct".
What Governor Okalia Said
It would be recalled that Governor Okalia Bilai, on April 25, stunned people of the Southwest Region in particular, and the Anglophone community in general, when he denigrated Chiefs of the Region by ordering that they march with banners on May 20th or be dethroned.
The public threat was issued during a preparatory meeting in prelude to the 2019 National Day celebration.
During the meeting, Okalia stated that, if the Chiefs fail to carry placards and march alongside their subjects, he will sanction them by dethroning them.
"See the chairs for the Chiefs, they are empty. On May 20, all the Chiefs will march with placards, indicating their village, and their population will follow behind. If that is not the case, it means those Chiefs don't exist. And if you don't exist as a body and as a village, it means you cannot be counted among villages. I said this, three years ago, the Chiefs refused because they were still volunteer Chiefs, but today, the volunteering is finished… you are tied to the State with an obligation. I don't want to disclose it here, but we understand each other. If you fail to do what I am instructing, you will see 30 days after, the consequences of disobedience."
Then, Okalia Bilai had instructed Mayor Ekema: "So, Lord Mayor, prepare the placards because they (Chiefs) will say that they don't have money. How many villages do we have? A hundred? A hundred placards. Every Chief will pass. Those who are in exile in Douala or Yaoundé, let them stay there, when they will come back, they will find somebody else as Chief," Okalia threatened.
These are the words of Governor Okalia, which are avoided by DO Paul Kouam, who without quoting the Governor's statements in its entirety, claim that the SWECC President is making statements they (Ekema, Kouam, and Okalia) qualify to be "malicious, odious and intriguing".