Douala, Cameroon- Dr Belinda Babila, CEO and Founder of the Belinda Babila Foundation, BBF, April 25, assisted Internally Displaced Persons, IDPs, and widows in Mabanda-Bonaberi in the Littoral Region to help them mitigate the impact of COVID-19 in their already-difficult situations.
The donation by Dr Babila was part of activities to commemorate her 40th birthday. The items donated by BBF comprised of masks, hand sanitizers, vitamin C to boost the immune system, bags of rice, cooking oil, maggi, amongst other things.
The gifts were handed over to the various recipients in three different locations in Mabanda, to respect the social distancing measure prescribed by the World Health Organisation as a deterrent to the spread of the pandemic.
[myAds]
The recipients expressed gratitude, as in the different stops, they received their gifts, and sang birthday songs to Dr Belinda Babila, whom they appreciated, for thinking and reaching out to them in the time of crisis and COVID-19 health pandemic.
Speaking at the event, the Cameroon Coordinator of BBF, Edrine Echike, said they were happy to give back to the community and the IDPs. "We have given them some non-perishable products like rice, maggi, groundnut oil, and others for them to celebrate with us. It would not have been good that we sit behind and eat, when Dr Belinda Babila is for salvaging humanity. So we thought it wise, as the team in Cameroon, to support her in her absence. That is why we are here today, to give back because her passion is to put a smile on the faces of people. Apart from the foodstuff, we also took into consideration, the COVID-19 pandemic, and gave out masks, hand sanitizers, gloves, and vitamin C.
On his part, Francis Babila, father to Dr Belinda Babila, regretted that contrary to what was planned her daughter could not be present to celebrate with her family and beneficiaries, because of the COVID-19 outbreak.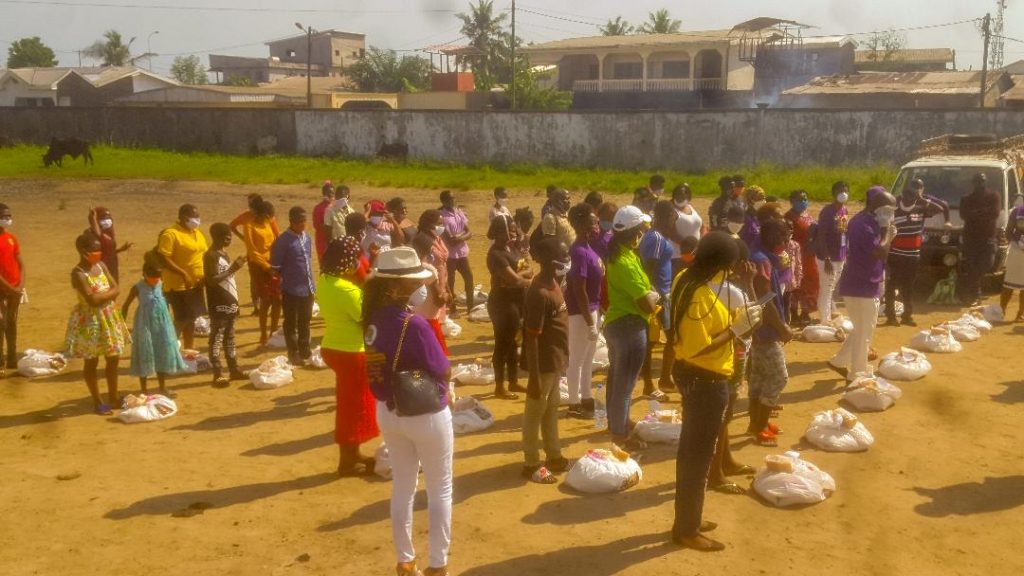 He expressed gratitude that his children have copied a good example of giving to others, as he, their father, had pioneered.
One of the beneficiaries of the donation, Jeff Bomki Nerius, an IDP from Kumba, and a book retailer, expressed gratitude, stating that the gifts will lessen his challenging duty of providing for his family for at least some days.
"I thank God, and pray that God should bless Dr Belinda to keep thinking of others. The gifts will save a situation for a while. We are stranded here in Douala, which is not our home," he said.
Bomki said he is especially unfortunate, because as a bookseller, he fled from Kumba where schools were grounded, and came to Douala just for the COVID-19 pandemic to halt schools again. "I can no longer do business to feed my family," he added.
[myAds]