By Mwalimu McMua Paul
In yet another doctoral degree defence occasioned by the Department of Linguistics of the University of Buea, UB, Patience Ntain has challenged the University to re-examine its language policy of "no pidgin on campus" and overtly show tolerance to the use of indigenous languages in the pedagogic process, which have, this far, seen covert rejection.
The academic ritual took place at the Board Room of the Faculty of Education of the coveted institution on Friday, May 27, 2022.
The dissertation under review: "Investigating Linguistic Practices in the University of Buea: Implications for Policy and Practice," summoned the erstwhile Director of ASTI, Prof. Joseph Suh Che, as the Chairperson of the jury; Professor Valentine Ubanako of the University of Yaounde I and Professor George Sakwe, current Director of ASTI, as rapporteurs; Professor Blasius Chiatoh, Head UB's Linguistics Department and Professor Wainkem Prasidis of the University of Yaounde I, as supervisor and co-supervisor respectively; and Professor Charles Teke, Acting Dean of the Faculty of Arts, as member.
Articulating the 'parcours' of her study, the candidate, highly applauded by her supervisors for unrelenting commitment to hard work and by other panellists for venturing to source and advance solutions to real-life academic hindrances which have had a toll on the University and beyond, outlined strategic questions at take-off:
"What are the linguistic preferences of students out of class at the University of Buea? What are the motivations for these preferences? What strategies do students adopt to cope with existing language policy in UB? What are the implications of their preferences for the institution's language policy?"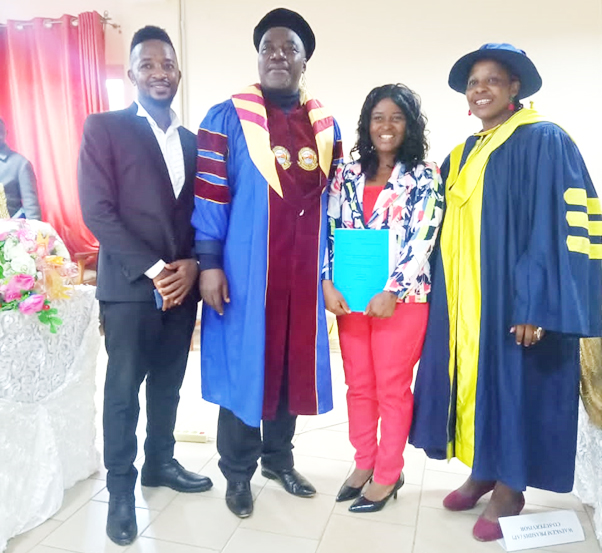 She employed Hymes' Ethnography of communication, Myers-Scotton's Markedness Model and Giles' Communication Accommodation Theories which served as theoretical frameworks for the study. She engaged both quantitative and qualitative research methods.
Findings of the research showed that multilingualism is the main linguistic practice with a 55.3 percent rate of preference and use. The results revealed that multilingualism was practised with the use of languages such as Cameroon Pidgin English, English, French, Camfranglais, and a variety of indigenous languages such as Lamnso, Itaŋikom, Mungaka, Mopkwe, Nweh and a number of foreign indigenous languages from Nigeria, Chad and Congo.
It was also established that Cameroon Pidgin English is the most preferred and frequently used language out of class with a 43.5 percent rate of use. Cameroon Pidgin English was revealed as the language of social interaction.
Further results revealed that a number of factors such as language background, peer influence, prestige, linguistic identity and defiance, respect of hierarchy and language policy, improvement of language skills, language familiarity, social status, jokes, fun and entertainment accounted for the motivation of students' linguistic preferences at UB.
It was also found that students used borrowing, code-switching and code-mixing as linguistic strategies to cope with the language policy in UB, with commendations that a flexible and inclusive language policy should be promoted with focus of the monolingual language policy on the classroom only.
As a major significance it has got, this flexible and inclusive language policy will help promote linguistic rights, and by induction, linguistic peace. The study, therefore, recommends that UB should revisit its language policy with a view to rendering it more tolerant towards other languages in out-of-classroom contexts.
There are high hopes that policy makers will be making use of these pivotal findings to enhance the teaching/learning process in tertiary education and beyond, by showing some tolerance towards the use of Cameroon Pidgin English and indigenous languages.