By Andrew Nsoseka
Shocking videos have surfaced on social media, showing Cameroon government forces, giving the green light for armed militias, who identified themselves as Mbororos and Muslims, to go on, burn, and kill mothers of those termed Amba boys in Wum Subdivision.
In the videos circulating online, Gendarmes are seen interviewing armed militias, telling them to explain why they have decided to pick up arms, and encouraging them not to be afraid. In one of the videos, a man, probably in his thirties, carry a long sword tells the Gendarmes that some of his Muslim brothers have been victims of Amba boys, and that as such, they are out for revenge.
"We are angry because this thing has become too much for us, they have killed our brothers, we have persevered but the situation is rather deteriorating…they have killed many Muslims and we have remained quiet…we have decided that if it means dying, we will die" he said, amidst chorus of Allahu Akbar from a group of others wielding machetes, swords and other crude weapons. The group consisted of boys between the ages of eight to 30, all carrying crude weapons.
In another video, another group, predominantly made up of Mbororos, is seen wielding weapons and discussing with gendarmes. The videographer, a Gendarme officer is heard struggling to ask them a question in English; "Why do you vex?" he asked, assuring them that they should not be afraid, as he then repeats the question, this time in French asking them why they are 'angry'.
"What Happening" he questioned further, reassuring them that they should talk and not be afraid. One of the armed boys then goes on to explain in the native Hausa Language and is joined by another, who explained that one of theirs has been killed. He continued by promising havoc to be exacted on the communities where suspected Amba fighters hail from. "We will kill all their mothers, it is I, Timberland talking, I control Hausa quarter…it is me", 'Timberland' told the gendarmes; gesticulating with one hand, while holding a machete and 1.5 litres of fuel in another. His declaration was greeted by a chorus of Allahu Akbar from other armed youths wielding their weapons in the air. One of the boys could be heard in the background, saying that the man who was killed is his father. "They kill na my Pa" he said.
After interviewing the armed group and telling them that things are ok and assuring them not to be afraid, the Gendarme officers mounted their pickup as they watched the youths wield weapons and rush into the communities. The videographer then explained in the French language that the Mbororo Community have decided to fight Amba boys (The boys rather swore to go after women in the villages and kill all).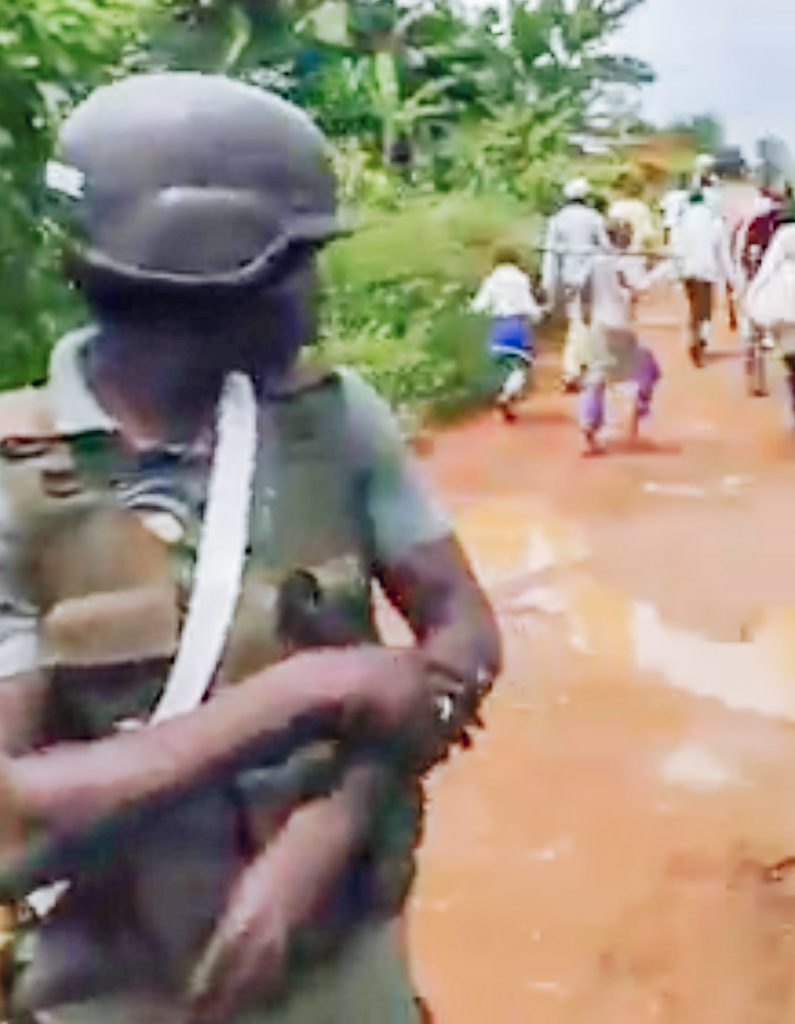 The Gendarme narrator and videographer said the Mbororo Community were all over town in their numbers, and are unstoppable. He claimed that they have done all within their powers to dissuade them, and failed, and as such, they will only assist the wounded.
From the videos, no word was heard dissuading the said groups, as rather, the gendarmes assured them not to be afraid. This has given credence to a version of a story that the Mbororo youths were incited by government troops, who emboldened and assured them of their support for such an action.
Earlier, unverified stories from Nwa Subdivision had posited that that the Mbororo Community who had always been in farmer- grazier conflicts with the locals, have been armed with AK47s and other weapons, which they have continually used to raid villages. It is alleged that like the case of Wum, the government armed militias do not engage the Amba fighters directly, but rather go after the general population in communities where suspected Amba fighters are from.
After the video narrations and interviews conducted by gendarmes, were released, other videos surfaced, showing houses razed to the ground. The Palaces of Naikom and Waindo were also torched. Another video showed a man who has been set ablaze, with part of his skin, peeled off by the degree of burns he suffered.
Events Before Aided Revenge
In a video preceeding that of Mbororos going on revenge, another shot by Cameroon's military shows homes in the Mbororo community in Wum, with the narrator alleging that they were burnt by Amba fighters. In the surrounding areas, a number of goats could be seen, allegedly slaughtered by the attackers.
It was during this attack, that the suspected Amba fighters allegedly killed one of the Mbororo community leaders, whose death, their youth, aided by the military, set out to avenge.
Governor Lele Lies
In a communiqué following the incident, the Northwest Governor, Adolf Lele L'Afrique said he was condemning the acts of jungle justice. He said following the attack by secessionist fighters that resulted in the destruction of homes and death of a community leader, "a group of Hausa and Aku youths unfortunately decided to take the law into their hands by carrying out targeted vandalism in Wum on the 3rd of June 2019".
After noting that the revenge mission led to the destruction of several houses, the burning of palaces and physical attacks that led to the killing of two and injuring of five others, the Governor said he was commending the efforts of the security forces who intervened to deter the situation from degenerating.
The Governor's statement claiming that the Security Forces saved the day, was a lie, as earlier videos rather show them excitedly videotaping the armed Hausa youths and telling them not to be afraid. Videos sent out by the said security forces, rather betray them as those who masterminded, aided and abetted the gruesome attacks.
It is known that males of fighting age or even those of 10 and fifteen years are targeted by government soldiers. Thus for such groups to be moving about, coming towards soldiers with weapons, and the soldiers rather videotaping and encouraging them, leaves many unanswered questions, as it is a known fact that that any armed person in such environments of the crisis-hit regions is shot on sight by soldiers.
The Governor stated that they do not want inter-community skirmishes to erupt.