Refugees International, RI, in a detailed field report titled "Crisis Denied", has revealed that Cameroon Government's refusal to acknowledge the Anglophone crisis, is one of the main reasons why relief and aid efforts have been underfunded by international bodies, especially as Government's denial scares away donors.
In its report, Refugees International wrote that: "Cameroon has long been viewed as a model of stability in a region fraught with conflict…however, tensions … have simmered for decades. The Anglophone minority, mostly concentrated in the Northwest and Southwest Regions, has been marginalised, discriminated against and economically disenfranchised since a referendum ended federalism and joined the two populations in a full political union in 1972."
The report points out that Cameroon Government's use of the military to clamp down on dissenting voices rather fuelled existing separatist sentiments.
Quoting statistics provided by the UN, RI states that the conflict has left 1.3 million people in need of assistance.
"Cameroonian authorities deny the severity of the displacement and humanitarian need. Making matters worse, both Cameroonian forces and non-State armed groups severely restrict freedom of movement, preventing local populations from accessing their land and basic services. Both also have taken steps to limit the access of humanitarian workers to populations affected by the conflict. However, through sustained engagement with local officials, communities, and armed groups, relief groups have been able to build trust and expand their reach into areas hit hard by the violence. Most of these groups have relied on their own internal funding, not specifically designated for the Northwest and Southwest, to assess and serve the affected populations, because, international donors have yet to step up and engage in a meaningful way.
Instead, foreign donor governments and other international stakeholders have focused on supporting a peace process, which clearly deserves international engagement. However, it is unlikely to bear fruit in the near term, because, the parties involved refuse to engage in meaningful dialogue. This fact raises the question of why donors, so far, have refused to expand their engagement beyond the peace process to address the humanitarian consequences of the fighting. The humanitarian situation is deteriorating rapidly as aid organisations burn through the last of their resources," the report further stated.
RI Proposes Better Ways To Handle Pertinent Issues
After chronicling the different issues, factors and actors making the crisis difficult to handle, Refugees International proposed that the Government should publicly recognise the severity of the Anglophone Crisis and that both sides of the conflict should also guarantee unrestricted access to health workers, NGOs, and the civilian population. They further proposed that the Government and armed groups must be able to accept the neutral stance of humanitarian organisations and the UN.
To donors worldwide, RI maintained that funding for humanitarian efforts need to be increased, because, agencies are fast running out of funds, despite the fact that they have collected useful data and have created networks, through which they can access a considerable number of the population in need.
Pointing out that the crisis shows no sign of waning out, and considering the fact that UN staff have been appointed to the Anglophone Regions only on a temporary basis, RI suggested that the UN should establish full-time positions within UN agency offices in the crisis-hit regions. They have suggested that there is a need to increase the visibility of the crisis.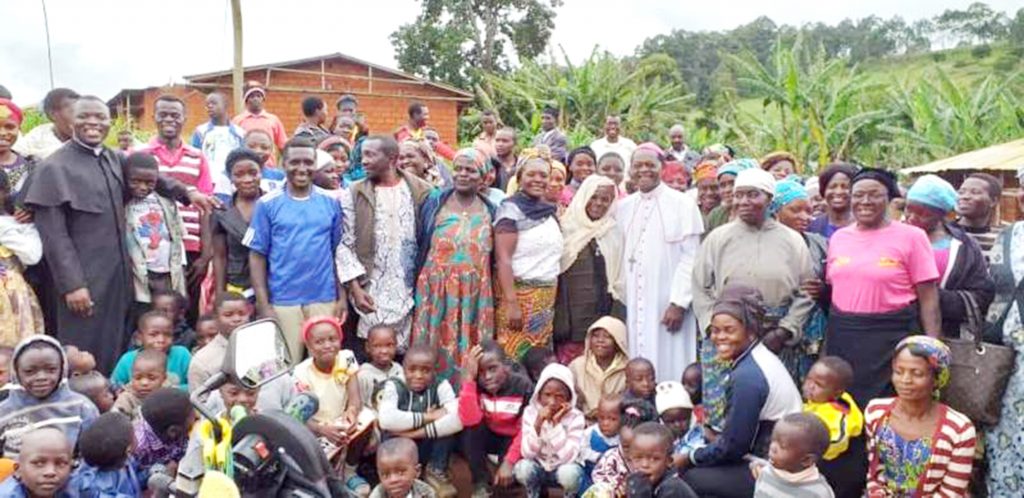 "Mobilise donor support, and call for unfettered humanitarian access. Severe underfunding, lack of international attention, and the stalemate between aid groups and Cameroonian authorities, are crippling the humanitarian response." The report further suggests that, "UN Secretary General, Antonio Guterres, must plan a visit to Cameroon to engage with President Paul Biya on these crucial issues"
The report reveal that RI's team travelled to Yaoundé for two weeks (March and April), where, it interviewed International Nongovernmental Organisation, INGOs staff, on the situation on the ground. It also revealed that its: "Team members also requested to meet with Cameroonian authorities, but these queries went unanswered or were denied."
Refugees International also reports that its team in Cameroon did not attempt to meet with displaced populations, because, they have been subjected to numerous humanitarian assessments over time "but have received remarkably little aid, so the team was concerned that such interviews would both worsen assessment fatigue and create false expectations among those in dire need. Moreover, a 10-day lockdown in the NWSW kept the Refugees International team from visiting these Regions."
The report also notes that, while the Cameroon Government is serving refugees from other countries and has allowed foreign humanitarian organisations to provide aid and relief supplies to them, it has failed its own internally displaced population, by curtailing access to the affected, and restricting international organisations from fully accessing and providing for the needy.
RI also regrets that, given the fact that the Government has downplayed the crisis and is unwilling to guarantee safe passage for humanitarian actors, many organisations fear speaking out against the Government or publicly reporting the extent to which it has interfered with aid delivery.
"Aid groups withhold their criticism in the hope of preserving the already-limited humanitarian space. Many groups fear that the Government will retaliate by blocking their access not only in the Northwest, Southwest, but also in the Extreme North Region of Cameroon, where humanitarian organisations are providing for those displaced by Boko Haram's on-going violence."
The report also expresses the need for the Cameroon Government, as well as armed groups, to respect humanitarian principles. It regrets that; "Aid workers have reported numerous cases in which the Cameroonian military requested that they provide their list of beneficiaries as the price of gaining access to certain areas. International humanitarian organisations have refused to provide such information because such a breach of confidentiality could violate the humanitarian principle to "do no harm" by endangering those beneficiaries."
Commenting on the halt of military aid to Cameroon by the United States due to human right abuses, RI said it "welcomes these condemnations of the role of Cameroonian security forces in the crisis but is disappointed they have not been accompanied by sufficiently increased funding for relief to cope with the humanitarian consequences of those violations. Although embassy staff from other countries claim to be practicing "quiet diplomacy" on this issue —believing a bilateral approach is the best way to get Cameroonian leadership to rectify its behaviour — very few of these countries have provided humanitarian funds for the Northwest and Southwest," it noted.