Cameroonian-born Ultimate Fighting Championship, UFC Heavyweight Champion, Francis Ngannou aka "The Predator" has told ICT University students that hard work, determination and consistency are key factors to achieving set goals in life.
The mixed martial art champion was the guest speaker at the Youths, Leader of Today, YOLETO summit organised at the ICT University campus in Nyom-Yaounde.
The 2022 edition of the summit held last Thursday, May 19, was placed under the theme, "resilience and consistence: tools for the visionary youth".
It had in attendance other speakers like transformational leader, Dr Numfor Alain and entrepreneur, Nju Dima Ako.
Addressing the students, the UFC Heavy Weight Champion advised that hard work, determination and consistency are some of the essential elements needed for a person to achieve anything they want in life.
"All the great people that you know were just like you, they went to school but they remain consistent with whatever they were doing and then came a day they were recognised for extraordinary works," Ngannou told the students.
Despite having achieved his feat as the current champion in the heavyweight division of the UFC, the son of Batier, in the West region said he hungers for knowledge.
"What I realised is that knowledge is one of the biggest wealth you can ever have… You don't become a successful person by doing ordinary things but by being determined and consistent in what you do. I am still learning and that is why I try to go to places where I will learn something inspiring which I didn't know," the mixed martial artist said.
The 1.93m tall champion articulated that "What is the biggest legacy or achievement that you can have in your life? What can make you outstanding from others?  Anyone of you can become whatever you want to be but think about these questions and take a step at a time".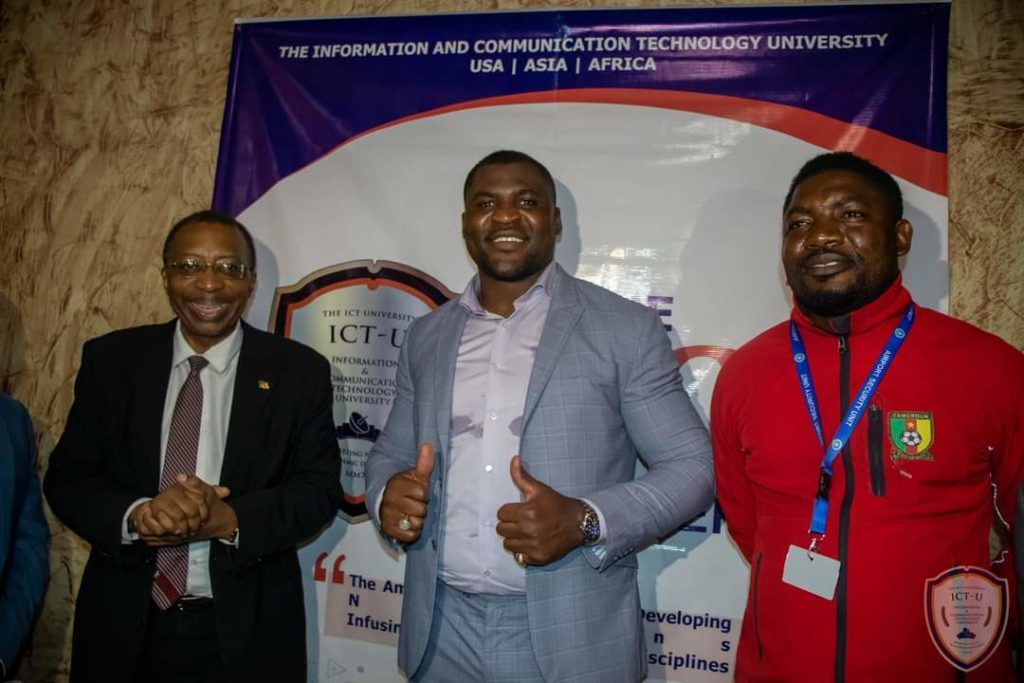 Ngannou's Motivation
Quizzed on what gives him the motivation in each fight to outsmart his opponents, Ngannou said he draws inspiration from several things to be able to raise his fights against opponents.
As he pointed out that his motivation and inspiration stem from his poor background, childhood experience and the pride of representing his country on the world stage.
"I come from a poor background, and my parents separated while I was very young so it was difficult for me to have the things other children had. I started working at a sand quarry at the age of 9 but at the age of 13, I realised I was better than the other children even though I couldn't have what they had. This is so because I had to put in so much effort and hard work to have what I had though it wasn't enough" he stated.
Ngannou further told the students that his desire to build a better future for his would-be wife and children plays a vital role in bringing out the best of him while in the boxing ring.
"Knowing that these people who are looking up to me, stay up all night just to watch me fight, is a big motivation to me while in the boxing ring. Today people say I represent Cameroon and Africa. I was trying to build a future for myself but I came to some point where it was no longer under my control. I realised it wasn't about me anymore. The small dream that I had, became a dream and symbol of hope for the people," the fighter fondly called 'The Predator' explained.
While stressing on the need to remain purposeful in whatever they do, Ngannou said "There are days that I feel like staying home and not do anything but once the thought of my motivation for fighting crosses my mind, I rush out of my bed to training and I would even work twice than usual. So find your motivation for doing whatever you're doing to get it going. If you have purpose you will find your dedication in what your do".
ICT University hailed
While acknowledging the warm reception accorded him by the institution, he hailed the ICT University which he said has been inspiring.
"I'm inspired and grateful to be here. I have heard a lot about this school from my brother and from what I have seen, I must say I'm really impressed," he stated.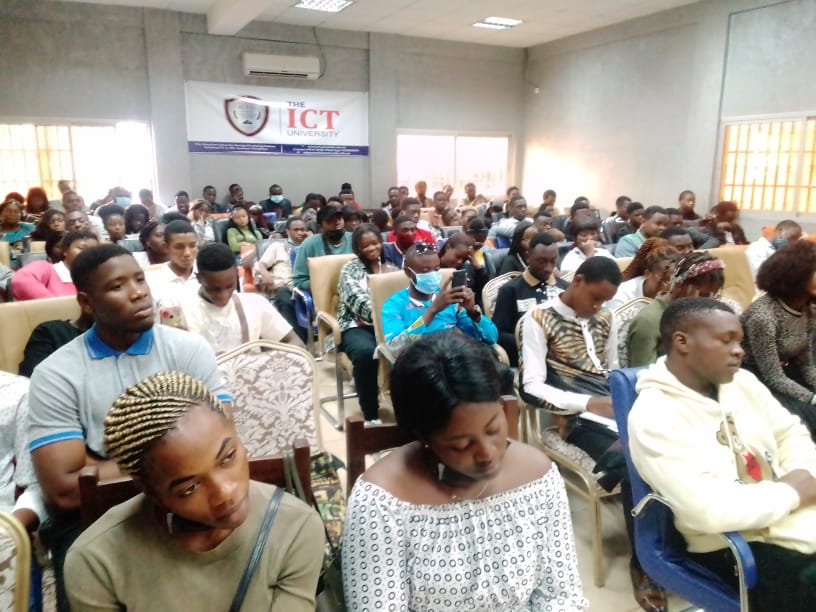 Ngannou added that "if I am impressed by this school, it is not only about the administration of this school but I do believe that each one of you contributed in giving the reputation this school has". 
He further enjoined the students to know they represent their school in whatever they do be it positively or negatively.
Enter ICT University VC
On his part, the Vice-Chancellor of the ICT University, Prof Jean Emmanuel Pondi enjoined the students to be inspired by Ngannou's achievement despite all the challenges he faced on the way to glory. He stressed on determination and devotion to whatever they do.
According to him, the YOLETO summit is an annual event bringing together young people and experienced change makers from all over the country and beyond to share and exchange knowledge. YOLETO has a vision of raising an army of change makers to change Africa's narrative.
The ICT University is currently accepting applications for the Summer semester. Click here to apply
https://ictuniversity.org/application-form, Visit our website to know more
http://www.ictuniversity.edu.cm/