The daughter of Cameroon's pioneer Head of State, Aminatou Ahidjo, who has been crisscrossing and campaigning for the incumbent President, Paul Biya for the upcoming October 7 Presidential election, was confronted with litany of problems by displaced persons from Njikwa, Oshie, Acha, and the Mborror Cultural and Development Associating, MOSCUDA, as she came visiting.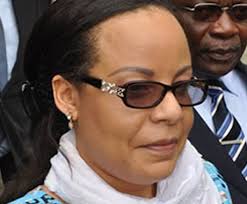 The occasion at Ayaba was mostly attended by the Moslems community that had fled from Oshie, Acha, and Njikwa, due to the socio-political Crisis plaguing the Country.
Addressing the participants, Aminatou Ahidjo, called on the Northwest population to stop hurting themselves and contribute more to building Cameroon.
She insisted that peace was collective and that Cameroon was for all Cameroonians. Aminatou asserted that the other Presidential candidates were good, but Paul Biya is the best. 
One of the participants on his part felt that President Biya should visit the Northwest Region as it will soften the hearts of Northwesterners.
Another participant, a business woman called on the Government to see to their situation as life is becoming unbearable for them with the constant ghost towns.
The First Deputy Mayor of the Njikwa Council, Banu Adu Odi, expressed his worry that he felt President Biya is not fully aware of what is happening and that something be done fast because a lot of people have been killed, especially in his constituency and more will die if nothing is done. 
On his part, the National President of the Mbororos El-Hadj Jaji Manu, lamented that Moslems are becoming the most targeted group in the Northwest Region stating that five persons from the same family were killed three days ago and houses of Moslems burnt, their cattle seized and the owners chased away by people he termed "terrorists". 
The ceremony ended with gifts comprising of school bags, umbrellas and t-shirts distributed to some of the participants.