BUEA, Cameroon- Cameroon's leader in the foods and beverages sector, Nestlé Cameroun, has supported efforts to counter the spread of COVID-19 in Cameroon.
Through various donations, Nestlé Cameroun, which also champions nutrition, health, and wellness, has offered goods and equipment worth circa FCFA 133 million to help the various stakeholders engaged in the fight to contain the COVID-19 pandemic.
The donation is expected to benefit some 110,000 people, who have been affected by the COVID-19 pandemic in Cameroon. The first part of the Nestlé Cameroun's donation, comprises some 10 tons (2000 cartons) of food products, was received on Thursday, April 23, by Dr. Fanne Mahamat, Director of Health Promotion, on behalf of the Minister of Public Health in Yaounde.
In a press release, Nestlé stated its commitment to help support the health and well-being of families and communities in Cameroon, especially during the COVID-19 health pandemic.
"During this unprecedented time, Nestlé's purpose of enhancing the quality of life and contributing to a healthier future is now more important than ever. Nestlé deeply cares for the people and communities and is committed to providing good nutrition, especially for the most vulnerable in society," Nestlé's press release read in part.
Commenting about the gesture, Robert Helou, Nestlé Cameroon's Managing Director,  stated that: "On behalf of all Nestlé Cameroon employees, I want to offer our support to all Cameroonians and thank the Ministry of Public Health, the doctors, nurses and all the healthcare professionals who are fully involved in the fight against this pandemic. Through this donation, Nestlé Cameroun is providing good nutrition for individuals and families in Cameroon."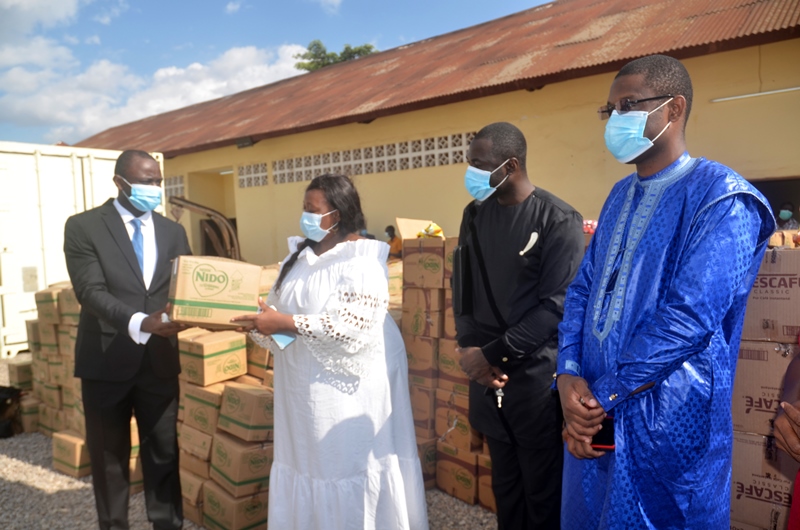 On the side-lines of the donation, Robert Helou further pledged Nestlé Cameroun's commitment to playing its essential role of ensuring the uninterrupted availability of food and beverages which are critical for the sustenance and well-being of families in Cameroon who depend on the company especially in difficult times such as these.
He also noted that Nestlé has implemented enhanced safety measures at all its sites, with a focus on frontline workers in the factory, quality laboratory, and distribution centre.
"This is in line with the respect of all preventive measures prescribed by the Government and World Health Organisation, which are paramount for Nestlé Cameroun," he noted.
He reiterated that, in line with the requirement to respect the social distance measures prescribed by the Government, Nestlé has taken all necessary measures to ensure the health and safety of its employees, distributors and all players in its distribution chain, as they work hard to ensure that Cameroonians have their food items in good quality and on-demand.
In its press statement, Nestlé also pledged that it will "continue to work in close collaboration with the Ministry of Public Health and all other key stakeholders for the health and well-being of all. Nestlé will also offer 40,000 surgical masks to Cameroonian healthcare professionals.
Meanwhile, at a global level, Nestlé has joined forces with the International Federation of the Red Cross and Red Crescent Societies, IFRC, to strengthen the global response against COVID-19 with a donation of approximately FCFA 6.2 billion.
Nestlé Cameroun S.A has, for over 50 years, carved and stamped its mark as the leading food and beverage company, a leader in nutrition, health, and wellbeing. The company has, as one of its core aims, a mission to enhance the quality of life and contribute to a healthier future for individuals and families in Cameroon.