Rural Women Development Centre, RUWDEC, in partnership with Barefoot College Tilonia-India, after studying challenges faced by rural communities in Cameroon to have access to electric energy, have engaged in a scheme through which rural women are trained in India, to become solar engineers.
This will help boost energy access back to their communities.
Through RUWDEC's partnership with Barefoot College Tilonia-India, some rural women from rural communities in Cameroon have benefited from the fully sponsored six months of solar power engineering training in India. Those trained in India have positively given back to their communities, by training others, to solve the problem of inadequate energy supply.
[myAds]
In a statement, RUWDEC revealed that the "project focuses on building women's capacities as solar engineers. The project also seeks to effectively engage the women in the provision of energy solutions adaptable to the community needs around agriculture, household electrification, and education, contributing to SDGs 5, 7 and 13".
The organisation in this project noted that it gives priority to the important role played by women in the fight against climate change, and as such, is passing through rural women to provide eco-friendly energy solutions to improve the living standards in grassroots communities.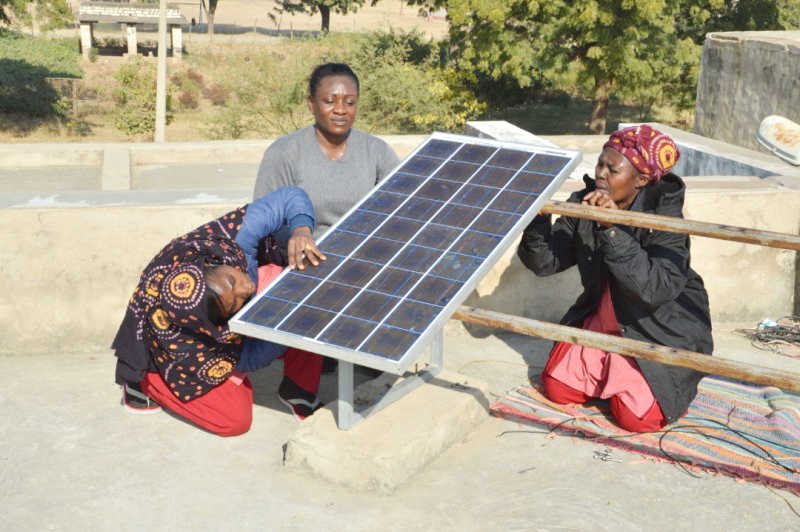 "Through our partnership with Barefoot College with scholarships from the Indian Ministry of External Affairs, we provide grassroots women the opportunity to participate in six months fully funded Rural Women Solar Training programme in India. The outstanding value proposed by this training course, and the programme, is its ability to train and transform illiterate/semi-literate women and grandmothers to grandma solar engineers, and utilise women as the channel for energy reform within grassroots communities", Said Nyandoh Paho Tadfor, the Project Coordinator.
She also revealed that seven women in Cameroon have participated in the training and on their return back to the country, have trained over 20 other women in rural communities to be experts in solar systems installation and maintenance. She further revealed that as the outcome of the project, over 2600 people in the Southwest have had access to electricity. This includes areas like Munyange Trouble, Mamfe Central and Idinau. In the Centre region, communities like Ngambé Tikar, and Mpagne have benefited from the solar training and electrification project.
[myAds]
RUWDEC pointed out that each year, they facilitate seven women from the Centre and Southwest regions to participate in the training in India, and on their return, they are mandated to utilise their acquired knowledge and skills to solve community challenges.
The organisation which is currently doing registration for the March 2020 batch of participants at its Buea office, located beside the Military Tribunal, said the challenge for most participants, has been the passport and visa fees which they have to personally cover. Aspirants are expected to register with a token of FCFA 5000, alongside a brief CV, birth and marriage certificates, ID card, recommendation letter from a community head and spouse and, passport, on or before the November 22. RUWDEC can be reached on phone through + 237 650 751 187 for registration.
[myAds]