By Njodzeka Danhatu
The Northwest chapter of Cameroon's Association of English Speaking Journalists, CAMASEJ, has called on its members to give a media blackout to the visit of Cameroon's Minister of Territorial Administration, MINAT,  Paul Atanga Nji.
The decision came on the heels of Atanga Nji's planned visit to Bamenda, Chief Town of Cameroon's Northwest Region.
In a release, made public on March 21, CAMASEJ lamented that, prior to the minister's visit, a recorded message was produced by General Agha Robinson, and media houses in the Divisions were called upon to broadcast as many times as possible, so as to be given a special place in the minister's press briefing. This practice according to CAMASEJ is in total contradiction to the resolution of the Northwest media associations' conclave of Friday 23th January 2019.
Describing the act as totally unacceptable, CAMASEJ Northwest wrote that, "We all desperately want a return to peace, and are ready to put in all our possible contribution to achieve this. Any initiative that will contribute to a return to peace and normalcy in our region, no matter how small, we stand by it."
They went on to strongly note that "However, we will not condone with people using peace initiatives to play games for gains. The message must be clear from the beginning. Communication plans in peace initiatives are not negotiated in speculation."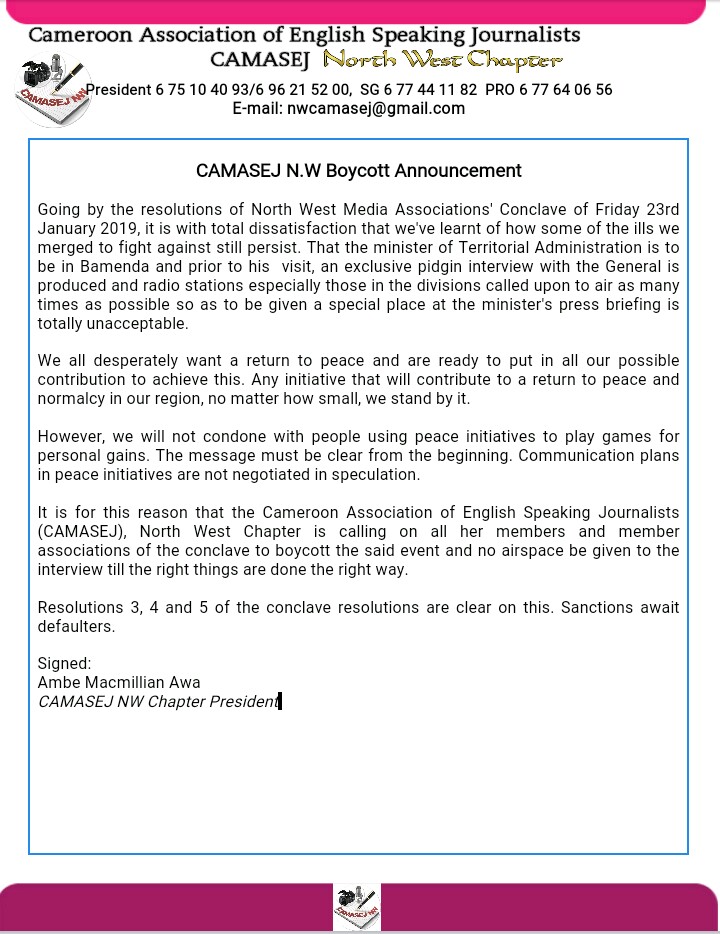 In conclusion, the journalist's association after chronicling their grievances wrote that "it is for this reason that the Cameroon Association of English Speaking Journalists (CAMASEJ), Northwest Chapter is calling on all members and member associations of the conclave to boycott the said event and no airspace be given to the interview till the right things are done the right way." The statement also warned that sanctions will be meted on members who disregard association's decision.