By Ekema Njoku M.
Three days into the Southwest Regional Championship, the boys of President Valery Kadji and Coach Enang Severin have lost no match, but have been consoling themselves with a series of draws.
Scheduled to take place at the Molyko Ominsport Stadium as one of the day three games, was a local derby against city rivals Continental Football Academy alias The Gra-Gra Boys hosting Buea United FC alias The Mountain Boys.
Many predicted The Mountain Boys will have an easy ride over The Gra-Gra Boys, unfortunately, their predictions failed as Continental FA open scores through a wonderful combination of passes between Dieudonne Younyi and Bertrand Epoge for Robert Mbungkah to turn into a scoring chance and it was 1-0 for the Gra-Gra Boys barely 15 minutes. Continental continued dominating the game in possession, while Buea United watched them standing guard in front of Goalkeeper Oscar Bwese alias Porato creating but squandering scoring opportunities till it was half time.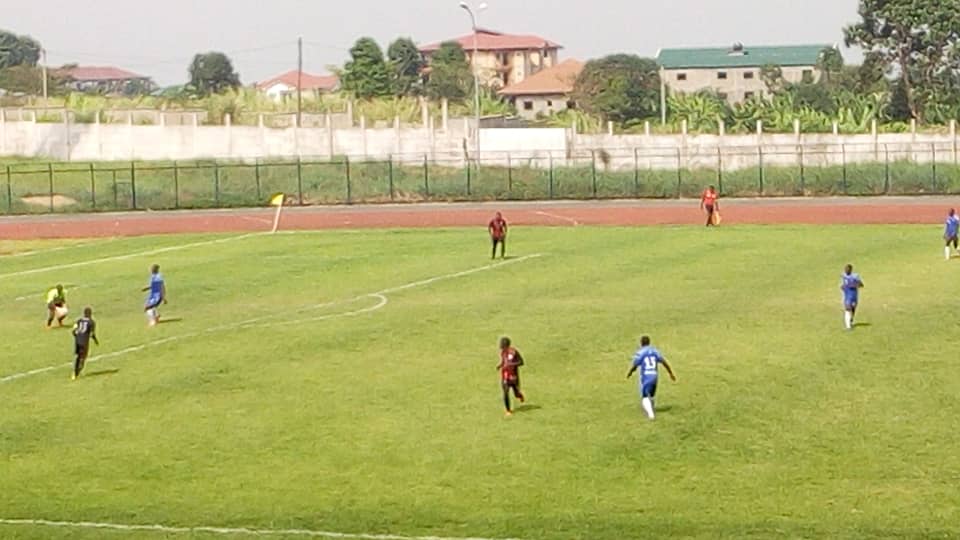 Coming back from the dressing room a new and determined Buea United FC opened scores after a foul on Bosten Mofa who calmly converted the penalty making it Continental FA 1-1 Buea United FC. The drama continued as the Gra –Gra boys broke the hearts of BU Fans doubling their lead seconds after the equalizer through Karlson Eyong.
The Mountain Boys were reduced to 10 men after Jimmy Njokam was shown the marching orders for a silly foul on a Continental FA player. Despite this deficit, Coach Enang's boys came from behind to level scores with Continental FA through Emerant Motutu Jr and kept the score that way for more than 35 minutes. At the end of the derby, it was 2-2 for both clubs.
Speaking to the Coach of Buea United FC, Enang N. Severin, he said "I am happy my boys could come from behind twice, this shows that they really wanted to win. The red card was what messed up the game because we had a space and the boys had to work extra hard in order not to concede another goal. But in all, we thank God for the draw."
Bertrand Epoge a midfielder for Continental FA, explained to Atlantic Chronicles that he was a little afraid because most of the players were young and saw Buea United as very deadly with good and quality players.
Talking to the President of Buea United, Valery Kadji after the match, he remarked that "I saw my boys fight to get victory even with 10men, yes we haven't won any match yet but this shows that to win Buea United too is really difficult." I believe that when we will start winning it will be difficult to stop my boys. Kadji said.
Complete Results for Delay day 2 and day three Matches
In Buea
University of Buea 2-1 Ajax FC Likomba
Dynamic FC 1-2 Tiko United FC
Continental FA 2-2 Buea United FC
In Limbe
Victoria United FC 2-4 ISOSHA
LIFCA 9-0 Little Foot FC
NQSA 4-0 Prisons FC
FUSSA 0-2 CUSA
In Tiko
EEMSA 2-1 Mount Cameroon
In Kumba; It was Day 2 for group D
Treviso FC 1-0 Kumba Lakers FC
PWD Kumba 1-2 Bau Manibok FC
While Best Stars Academy and Cinyodev FA were on standby.