The Minister of Labour and Social Security, Gregoire Owona, Friday, October 18, decorated some 54 employees of Addax Petroleum Cameroon Company S.A. with labour medals.
At a massively-attended ceremony at the Addax Petroleum Head office in Youpwe, Douala, the Labour Minister, in the presence of the Secretary General at the Littoral Governor's office, hailed the workers for their contribution to nation-building and the growth of the company. The labour boss further encouraged the laureates to uphold best practices, good relations and dialogue between the company's management and its workers.
[myAds]
During the ceremony, 54 meritorious workers were decorated with gold, bronze and silver medals with some having more than one medal, depending on the number of years they have worked. In all, 41 workers received silver medals for having worked for 10 years; 24 received bronze medals for having put in more than 15 years and 7 were awarded gold medals for having worked for at least 25 years.
Speaking during the event, Roger Beaumont, President & General Manager PGM of Addax Petroleum Cameroon, congratulated the recipients for their hard work and dedication. He urged them to continue doing their best for the development of the company: "Dear recipients, the medal award ceremony is not the end of the road: it is an incentive for you to continue working hard and to be shining examples to your colleagues and the upcoming generation."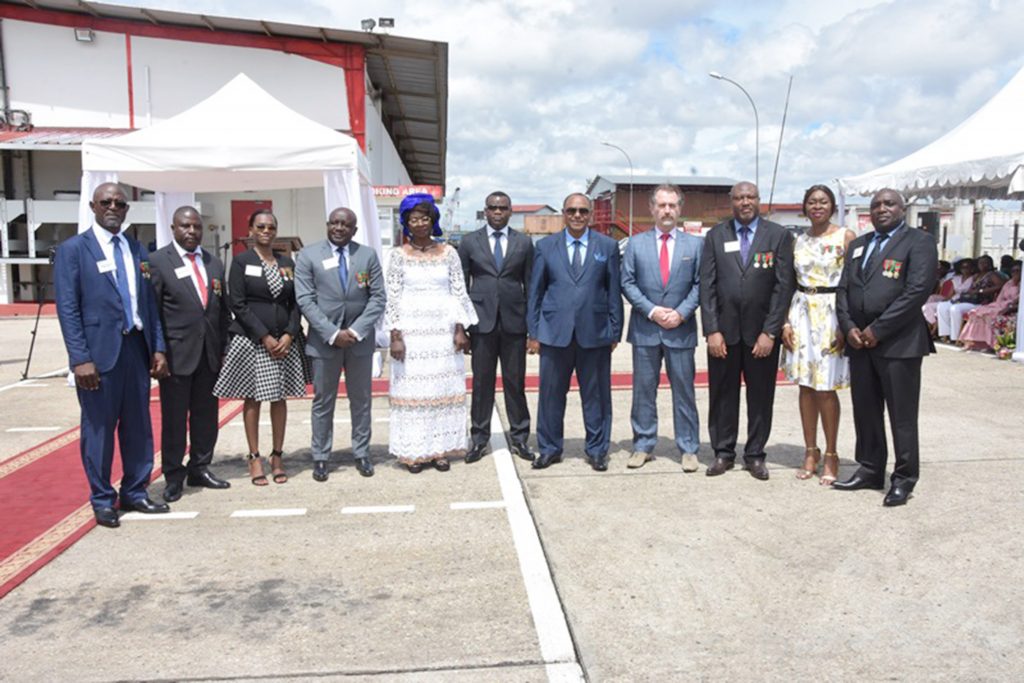 According to the PGM, amongst the 54 recipients decorated today, 28 have worked only with Addax. He said most of those receiving gold medals took over from the company's founding fathers, shaped the company to what it is today and have also trained the company's junior employees saying: "Your passion is inspiring." He expressed gratitude for the minister's presence and said it was testimony to the importance he attached to the company.
In his intervention, the representative of the staff, Herbert Mancho, noted the significant efforts management has made in improving the working and living conditions of workers, especially after the signing of the oil-sector collective convention last year: "Social dialogue between Staff Representatives and Management is a reality in the company and has been pivotal in the promotion of decent work in Addax Petroleum Cameroon Company S.A." But like Oliver Twist, he added that much still needed to be done especially in the area of transferring of competence from Expat to local employees.
[myAds]
The medal recipients were overwhelmed after being decorated. Jacquie Patcha, Supply Chain Manager at Addax, could not hide her emotions: "I am very happy to have received a gold medal today. It is a medal of excellence, hard work, and dedicated service. I thank God for this. It's been a great experience working for this company. There have been a lot of achievements in terms of professional development and career growth and also personal satisfaction. Working for a company with good values, makes one to give it one's all. Here, we learn from mistakes and draw from other experiences. This medal will only propel me to do more," she said.
Kevin Sone, a Safety Advisor who received a bronze and silver medal for 15 years of service, said: "I started in the maintenance team, and later on moved to the safety team. I worked in maintenance for five years, and moved on to the safety department where I have worked for 10 years. The medals today are a recognition, which will not stop us from doing what we have been doing. There is always room for improvement," he said.
[myAds]